Hebrew Scripture: Deuteronomy 5:22-33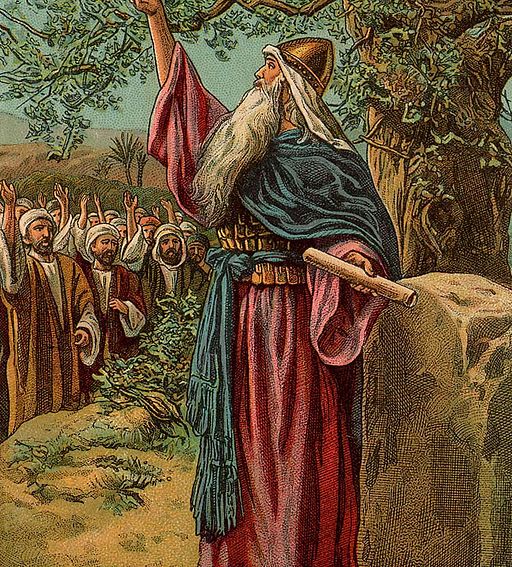 These words the Lord spoke with a loud voice to your whole assembly at the mountain, out of the fire, the cloud, and the thick darkness, and he added no more. He wrote them on two stone tablets, and gave them to me. When you heard the voice out of the darkness, while the mountain was burning with fire, you approached me, all the heads of your tribes and your elders; and you said, "Look, the Lordour God has shown us his glory and greatness, and we have heard his voice out of the fire. Today we have seen that God may speak to someone and the person may still live. So now why should we die? For this great fire will consume us; if we hear the voice of the Lord our God any longer, we shall die. For who is there of all flesh that has heard the voice of the living God speaking out of fire, as we have, and remained alive? Go near, you yourself, and hear all that the Lord our God will say. Then tell us everything that the Lord our God tells you, and we will listen and do it."
The Lord heard your words when you spoke to me, and the Lord said to me: "I have heard the words of this people, which they have spoken to you; they are right in all that they have spoken. If only they had such a mind as this, to fear me and to keep all my commandments always, so that it might go well with them and with their children forever! Go say to them, 'Return to your tents.' But you, stand here by me, and I will tell you all the commandments, the statutes and the ordinances, that you shall teach them, so that they may do them in the land that I am giving them to possess." You must therefore be careful to do as the Lord your God has commanded you; you shall not turn to the right or to the left. You must follow exactly the path that the Lord your God has commanded you, so that you may live, and that it may go well with you, and that you may live long in the land that you are to possess.
Psalm 93
The Lord is king, he is robed in majesty;
the Lord is robed, he is girded with strength.
He has established the world; it shall never be moved;
your throne is established from of old;
you are from everlasting.
The floods have lifted up, O Lord,
the floods have lifted up their voice;
the floods lift up their roaring.
More majestic than the thunders of mighty waters,
more majestic than the waves of the sea,
majestic on high is the Lord!
Your decrees are very sure;
holiness befits your house,
O Lord, forevermore.
New Testament Epistle Lesson: 1 Peter 3:8-12
Finally, all of you, have unity of spirit, sympathy, love for one another, a tender heart, and a humble mind. Do not repay evil for evil or abuse for abuse; but, on the contrary, repay with a blessing. It is for this that you were called–that you might inherit a blessing. For
"Which of you desires life,
and covets many days to enjoy good?
Keep your tongue from evil,
and your lips from speaking deceit.

 

"Depart from evil, and do good;
seek peace, and pursue it.

"The eyes of the Lord are on the righteous,
and his ears are open to their cry.

"The face of the Lord is against evildoers,
to cut off the remembrance of them from the earth."*
*Psalm 34:12-16
Bible verses from The New Revised Standard Version, copyright 1989 by the Division of Christian Education of the National Council of Churches of Christ in the United States of America. Used by permission. All right reserved.

Selections from Revised Common Lectionary Daily Readings, copyright 1995 by the Consultation on Common Texts.
Image credit:
Moses' Farewell Speech
by the Providence Lithograph Company,
via Wikimedia Commons
. This is a public domain image.