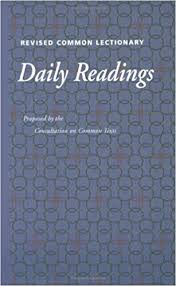 During the time after Trinity Sunday (eight weeks after Easter) and before Advent (four weeks before Christmas), the lectionary has two series, Complementary and Semi-continuous. There is no right or wrong way to use the readings. Both series use the same New Testament lesson. One way is to follow the series that your denomination or congregation uses. Another way is to use one series in the morning and another series in the evening (if you have time to do both). It is better to read one or the other series consistently than to try to do both and give up because of the time commitment. If you are not sure which to use, follow the Complementary series.
The Sunday lectionaries for these denominations use the Complementary series: Roman Catholic, Lutheran Church-Missouri Synod, The Mennonites, and the Church of the Brethern.
The Reformed Church in America and the United Methodist Church use the Semi-continuous series.
These denominations using the Sunday lectionary explicitly allow for the use of either series: Presbyterian, Evangelical Lutheran, United Church of Christ, African Methodist Episcopal, and Episcopal. Check with your pastor or church office to find out which series is being used.
These denominations also use the Sunday Revised Common Lectionary, however, we haven't been able to determine whether they use one series or the other or allow for both: American Baptist Churches USA, Christian Fellowship of the Unitarian Universalist Association, and the Christian Reformed Church in North America.
Thursday: Preparation for the Eleventh Sunday in Ordinary Time
Complementary Exodus 4:18-23 God said to Moses, "When you go back to Egypt, see that you perform all the wonders I have put in hour power; but . . . he will not let your people go."
Semi-continuous Genesis 21:-7 Sarah conceived and bore Abraham a son in his old age.
Both Hebrews 3:1-6 Christ was faithful over God's house as a son, and we are his house if we hold firm the confidence and pride that belong to hope.
Friday: Preparation for the Eleventh Sunday in Ordinary Time
Complementary Exodus 4:27-31 When the people heard that God had given heed to the Israelites and had seen their misery, they bowed down and worshiped.
Semi-continuous Genesis 24:1-9 Abraham sent his servant to his old country and kindred to get a wife for his son Isaac.
Both Acts 7:35-43 Stephen, before the Sanhedrin, says "It was Moses they rejected when they said 'Who made you ruler and judge?' even though God had sent him as ruler and liberator."
Saturday: Preparation for the Eleventh Sunday in Ordinary Time
Complementary Exodus 628-7:13 God promises Moses that when Pharaoh does not listen to him, God's people will come out of Egypt by great acts of judgment.
Semi-continuous Genesis 24:10-52 Rebekah's father and brother say "this thing comes from the Lord; ...look Rebekah is before you. Take her and go."
Both Mark 7:1-13 Jesus quotes Isaiah to the scribes and Pharisees: "This people honors me with their lips, but their hearts are far from me; in vain do they worship me."
The Eleventh Sunday in Ordinary Time
Complementary Exodus 19:2-8a Moses is to tell the people that God said "If you obey my voice and keep my covenant, you will be my treasured possession out of all the peoples."
Semi-continuous Genesis 18:1-15, 21: 1-7 Abraham encounters God in the form of three angels, and Sarah, despite her and Abraham's ages, conceives a son.
Both Romans 5:1-8 Suffering produces endurance, endurance produces character, character produces hope, which does not disappoint us because God's love has been poured out for us. Both Matthew 9:35-10:23 Jesus chooses the apostles and sends them out to the lost sheep of the house of Israel.
Monday: Reflection on the Eleventh Sunday in Ordinary Time
Complementary Joshua 1:1-11 God says to Joshua, "As I was with Moses, so I will be with you; I will not fail you or forsake you. . . . You shall meditate on the book of the law day and night."
Semi-continuous Genesis 23:1-19 Sarah lived one hundred twenty-seven years. Abraham buried her in Canaan.
Both 1 Thessalonians 3:1-5 Paul sent Timothy to the Thessalonians to see if they were holding to their faith.
Tuesday: Reflection on the Eleventh Sunday in Ordinary Time
Complementary 1 Samuel 3:1-9 God calls Samuel, but Samuel does not realize it is God.
Semi-continuous Genesis 25:7-11 Abraham lived one hundred seventy-five years. His sons Isaac and Ishmael buried him with Sarah.
Both 2 Thessalonians 2:13-3:5 Paul writes, "May the Lord Jesus Christ, and God our Father, comfort and strengthen your hearts in every good work and word. Finally, pray for us so the word of the Lord may spread everywhere."
Wednesday: Reflection on the Eleventh Sunday in Ordinary Time
Complementary Proverbs 4:10-27 The path of the righteous is like the light of dawn, which shines brighter and brighter until full day.
Semi-continuous Nehemiah 9:1-8 The Israelites assembled with fasting and in sackcloth. They stood for a quarter day and read from the book of the law and made confession and worshiped God.
Both Luke 6:12-19 Jesus called his disciples and chose twelve of them, whom he also named apostles.
*More information about the two series is here: Which Series?
Please note that the links above do not become active until 7 a.m. US Eastern Time on the designated day, when the readings get posted on the new web site. If you need the Sunday reading earlier, please let me know and I will assist you.
Thank you for all that you do to bring God's reign into being.
Mike Gilbertson
Do you have a friend who could us these readings?
If you know someone who could deepen his or her commitment to being a Christian through these readings, why not forward this newsletter to that person? Here is a link that leads to the sign up forms: Sign up links for daily and weekly emails
Bible verses from The New Revised Standard Version, copyright 1989 by the Division of Christian Education of the National Council of Churches of Christ in the United States of America. Used by permission. All right reserved.

Selections from Revised Common Lectionary Daily Readings, copyright 1995 by the Consultation on Common Texts.