Revised Common Lectionary Proper 6
Roman Catholic Proper 11
Complementary Hebrew Scripture: Joshua 1:1-11
After the death of Moses the servant of the LORD, the LORD spoke to Joshua son of Nun, Moses' assistant, saying, "My servant Moses is dead. Now proceed to cross the Jordan, you and all this people, into the land that I am giving to them, to the Israelites. Every place that the sole of your foot will tread upon I have given to you, as I promised to Moses. From the wilderness and the Lebanon as far as the great river, the river Euphrates, all the land of the Hittites, to the Great Sea in the west shall be your territory. No one shall be able to stand against you all the days of your life. As I was with Moses, so I will be with you; I will not fail you or forsake you. Be strong and courageous; for you shall put this people in possession of the land that I swore to their ancestors to give them. Only be strong and very courageous, being careful to act in accordance with all the law that my servant Moses commanded you; do not turn from it to the right hand or to the left, so that you may be successful wherever you go. This book of the law shall not depart out of your mouth; you shall meditate on it day and night, so that you may be careful to act in accordance with all that is written in it. For then you shall make your way prosperous, and then you shall be successful. I hereby command you: Be strong and courageous; do not be frightened or dismayed, for the LORD your God is with you wherever you go."
Then Joshua commanded the officers of the people, "Pass through the camp, and command the people: 'Prepare your provisions; for in three days you are to cross over the Jordan, to go in to take possession of the land that the LORD your God gives you to possess.'"
Semi-continuous Hebrew Scripture: Genesis 23:1-19
Sarah lived one hundred twenty-seven years; this was the length of Sarah's life. And Sarah died at Kiriath-arba (that is, Hebron) in the land of Canaan; and Abraham went in to mourn for Sarah and to weep for her. Abraham rose up from beside his dead, and said to the Hittites, "I am a stranger and an alien residing among you; give me property among you for a burying place, so that I may bury my dead out of my sight." The Hittites answered Abraham, "Hear us, my lord; you are a mighty prince among us. Bury your dead in the choicest of our burial places; none of us will withhold from you any burial ground for burying your dead." Abraham rose and bowed to the Hittites, the people of the land. He said to them, "If you are willing that I should bury my dead out of my sight, hear me, and entreat for me Ephron son of Zohar, so that he may give me the cave of Machpelah, which he owns; it is at the end of his field. For the full price let him give it to me in your presence as a possession for a burying place." Now Ephron was sitting among the Hittites; and Ephron the Hittite answered Abraham in the hearing of the Hittites, of all who went in at the gate of his city, "No, my lord, hear me; I give you the field, and I give you the cave that is in it; in the presence of my people I give it to you; bury your dead." Then Abraham bowed down before the people of the land. He said to Ephron in the hearing of the people of the land, "If you only will listen to me! I will give the price of the field; accept it from me, so that I may bury my dead there." Ephron answered Abraham, "My lord, listen to me; a piece of land worth four hundred shekels of silver–what is that between you and me? Bury your dead." Abraham agreed with Ephron; and Abraham weighed out for Ephron the silver that he had named in the hearing of the Hittites, four hundred shekels of silver, according to the weights current among the merchants.
So the field of Ephron in Machpelah, which was to the east of Mamre, the field with the cave that was in it and all the trees that were in the field, throughout its whole area, passed to Abraham as a possession in the presence of the Hittites, in the presence of all who went in at the gate of his city. After this, Abraham buried Sarah his wife in the cave of the field of Machpelah facing Mamre (that is, Hebron) in the land of Canaan.
Complementary Psalm 105:1-11, 37-45
O give thanks to the Lord, call on his name,
  make known his deeds among the peoples.
Sing to him, sing praises to him;
  tell of all his wonderful works.
Glory in his holy name;
  let the hearts of those who seek the Lord rejoice.
Seek the Lord and his strength;
  seek his presence continually.
Remember the wonderful works he has done,
  his miracles, and the judgments he uttered,
  O offspring of his servant Abraham,
  children of Jacob, his chosen ones.
He is the Lord our God;
 his judgments are in all the earth.
He is mindful of his covenant forever,
  of the word that he commanded,
  for a thousand generations,
  the covenant that he made with Abraham,
  his sworn promise to Isaac,
  which he confirmed to Jacob as a statute,
  to Israel as an everlasting covenant, saying,
  "To you I will give the land of Canaan as your portion for an inheritance."
Then he brought Israel out with silver and gold,
  and there was no one among their tribes who stumbled.
Egypt was glad when they departed,
  for dread of them had fallen upon it.
He spread a cloud for a covering,
  and fire to give light by night.
They asked, and he brought quails,
  and gave them food from heaven in abundance.
He opened the rock, and water gushed out;
  it flowed through the desert like a river.
For he remembered his holy promise, and Abraham, his servant.
So he brought his people out with joy,
  his chosen ones with singing.
He gave them the lands of the nations,
  and they took possession of the wealth of the peoples,
  that they might keep his statutes and observe his laws.
Praise the Lord!
Semi-continuous Psalm 126
When the Lord restored the fortunes of Zion, we were like those who dream.
Then our mouth was filled with laughter, and our tongue with shouts of joy;
  then it was said among the nations,
  "The Lord has done great things for them."
The Lord has done great things for us, and we rejoiced.
Restore our fortunes, O Lord, like the watercourses in the Negeb.
May those who sow in tears reap with shouts of joy.
Those who go out weeping, bearing the seed for sowing,
  shall come home with shouts of joy, carrying their sheaves.
New Testament Epistle Lesson: 1 Thessalonians 3:1-5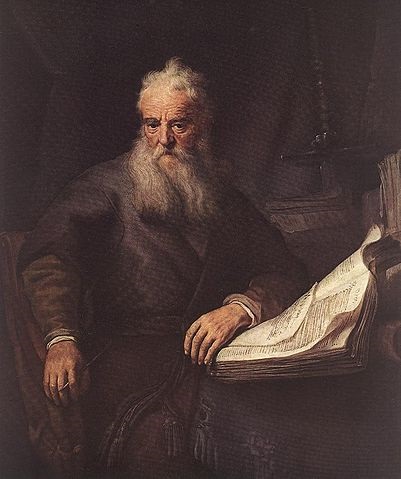 Therefore when we could bear it no longer, we decided to be left alone in Athens; and we sent Timothy, our brother and co-worker for God in proclaiming the gospel of Christ, to strengthen and encourage you for the sake of your faith, so that no one would be shaken by these persecutions. Indeed, you yourselves know that this is what we are destined for. In fact, when we were with you, we told you beforehand that we were to suffer persecution; so it turned out, as you know. For this reason, when I could bear it no longer, I sent to find out about your faith; I was afraid that somehow the tempter had tempted you and that our labor had been in vain.
Year A Ordinary 11, RCL Proper 6, Catholic Proper 11 Monday
Bible verses from The New Revised Standard Version, copyright 1989 by the Division of Christian Education of the National Council of Churches of Christ in the United States of America. Used by permission. All right reserved.

Selections from Revised Common Lectionary Daily Readings, copyright 1985 by Consultation on Common Texts.

Image Credit: The Apostle Paul by Rembrandt, a public domain image, via Wikimedia Commons.