Revised Common Lectionary Proper 7
Roman Catholic Proper 12
Complementary Hebrew Scripture: Jeremiah 20:1-6
Now the priest Pashhur son of Immer, who was chief officer in the house of the LORD, heard Jeremiah prophesying these things. Then Pashhur struck the prophet Jeremiah, and put him in the stocks that were in the upper Benjamin Gate of the house of the LORD. The next morning when Pashhur released Jeremiah from the stocks, Jeremiah said to him, The LORD has named you not Pashhur but "Terror-all-around." For thus says the LORD: I am making you a terror to yourself and to all your friends; and they shall fall by the sword of their enemies while you look on. And I will give all Judah into the hand of the king of Babylon; he shall carry them captive to Babylon, and shall kill them with the sword. I will give all the wealth of this city, all its gains, all its prized belongings, and all the treasures of the kings of Judah into the hand of their enemies, who shall plunder them, and seize them, and carry them to Babylon. And you, Pashhur, and all who live in your house, shall go into captivity, and to Babylon you shall go; there you shall die, and there you shall be buried, you and all your friends, to whom you have prophesied falsely.
Semi-continuous Hebrew Scripture: Ezekiel 29:3-7
Speak, and say, Thus says the Lord GOD:

I am against you, Pharaoh king of Egypt,
 the great dragon sprawling
 in the midst of its channels,
 saying, "My Nile is my own; I made it for myself."
I will put hooks in your jaws,
 and make the fish of your channels
 stick to your scales.
I will draw you up from your channels,
 with all the fish of your channels
 sticking to your scales.
I will fling you into the wilderness,
 you and all the fish of your channels;
 you shall fall in the open field,
 and not be gathered and buried.
To the animals of the earth and to the birds of the air
 I have given you as food.
Then all the inhabitants of Egypt shall know
 that I am the LORD
 because you were a staff of reed
 to the house of Israel;
  when they grasped you with the hand, you broke,
 and tore all their shoulders;
 and when they leaned on you, you broke,
 and made all their legs unsteady.
Complementary Psalm 69:7-18
It is for your sake that I have borne reproach,
 that shame has covered my face.
I have become a stranger to my kindred,
 an alien to my mother's children.
It is zeal for your house that has consumed me;
 the insults of those who insult you
 have fallen on me.
When I humbled my soul with fasting,
 they insulted me for doing so.
When I made sackcloth my clothing,
 I became a byword to them.
I am the subject of gossip for those who sit in the gate,
 and the drunkards make songs about me.
But as for me, my prayer is to you, O Lord.
At an acceptable time, O God,
 in the abundance of your steadfast love, answer me.
With your faithful help rescue me from sinking in the mire;
 O God, let me be delivered from my enemies
 and from the deep waters.
Do not let the flood sweep over me,
 or the deep swallow me up,
 or the Pit close its mouth over me.
Answer me, O Lord, for your steadfast love is good;
 according to your abundant mercy, turn to me.
Do not hide your face from your servant,
 for I am in distress—make haste to answer me.
Draw near to me, redeem me,
 set me free because of my enemies.
Semi-continuous Psalm 86:1-10
Incline your ear, O Lord, and answer me,
 for I am poor and needy.
Preserve my life, for I am devoted to you;
 save your servant who trusts in you.
You are my God;
 be gracious to me, O Lord,
 for to you do I cry all day long.
Gladden the soul of your servant,
 for to you, O Lord, I lift up my soul.
For you, O Lord, are good and forgiving,
 abounding in steadfast love to all who call on you.
Give ear, O Lord, to my prayer;
 listen to my cry of supplication.
In the day of my trouble I call on you,
 for you will answer me.
There is none like you among the gods, O Lord,
 nor are there any works like yours.
All the nations you have made
 shall come and bow down before you, O Lord,
 and shall glorify your name.
For you are great and do wondrous things;
 you alone are God.
New Testament Gospel Lesson: Luke 11:53-12:3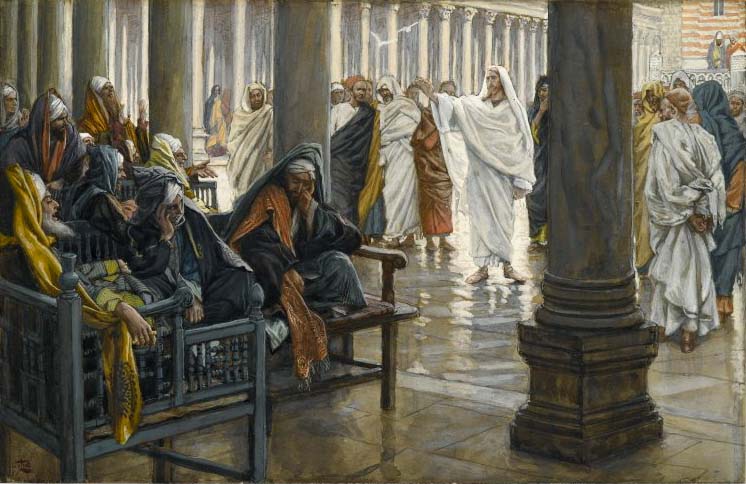 [Jesus has just left a dinner with a Pharisee.]
When he went outside, the scribes and the Pharisees began to be very hostile toward him and to cross-examine him about many things, lying in wait for him, to catch him in something he might say.
Meanwhile, when the crowd gathered by the thousands, so that they trampled on one another, he began to speak first to his disciples, "Beware of the yeast of the Pharisees, that is, their hypocrisy. Nothing is covered up that will not be uncovered, and nothing secret that will not become known. Therefore whatever you have said in the dark will be heard in the light, and what you have whispered behind closed doors will be proclaimed from the housetops."
Year A Ordinary 12, RCL Proper 7, Catholic Proper 12 Saturday
Bible verses from The New Revised Standard Version, copyright 1989 by the Division of Christian Education of the National Council of Churches of Christ in the United States of America. Used by permission. All right reserved.

Selections from Revised Common Lectionary Daily Readings, copyright 1985 by the Consultation on Common Texts.

Image Credit: Woe Unto You Scribes and Pharisees by James Tissot, via Wikimedia Commons. This is a public domain image.