Revised Common Lectionary Proper 7
Roman Catholic Proper 12
Complementary Hebrew Scripture: Jeremiah 18:12-17
[God is speaking to Jeremiah. God says if the people will turn from evil, they will not be punished.]
But they say, "It is no use! We will follow our own plans, and each of us will act according to the stubbornness of our evil will."
Therefore thus says the LORD:
Ask among the nations:
 Who has heard the like of this?
The virgin Israel has done a most horrible thing.
Does the snow of Lebanon leave the crags of Sirion?
Do the mountain waters run dry,
 the cold flowing streams?
But my people have forgotten me,
 they burn offerings to a delusion;
 they have stumbled in their ways,
 in the ancient roads,
 and have gone into bypaths, not the highway,
 making their land a horror,
 a thing to be hissed at forever.
All who pass by it are horrified and shake their heads.
Like the wind from the east,
 I will scatter them before the enemy.
 I will show them my back, not my face,
 in the day of their calamity.
Semi-continuous Hebrew Scripture: Exodus 12:43-49
The LORD said to Moses and Aaron: This is the ordinance for the passover: no foreigner shall eat of it, but any slave who has been purchased may eat of it after he has been circumcised; no bound or hired servant may eat of it. It shall be eaten in one house; you shall not take any of the animal outside the house, and you shall not break any of its bones. The whole congregation of Israel shall celebrate it. If an alien who resides with you wants to celebrate the passover to the LORD, all his males shall be circumcised; then he may draw near to celebrate it; he shall be regarded as a native of the land. But no uncircumcised person shall eat of it; there shall be one law for the native and for the alien who resides among you.
Complementary Psalm 69:7-18
It is for your sake that I have borne reproach,
 that shame has covered my face.
I have become a stranger to my kindred,
 an alien to my mother's children.
It is zeal for your house that has consumed me;
 the insults of those who insult you
 have fallen on me.
When I humbled my soul with fasting,
 they insulted me for doing so.
When I made sackcloth my clothing,
 I became a byword to them.
I am the subject of gossip for those who sit in the gate,
 and the drunkards make songs about me.
But as for me, my prayer is to you, O Lord.
At an acceptable time, O God,
 in the abundance of your steadfast love, answer me.
With your faithful help rescue me from sinking in the mire;
 O God, let me be delivered from my enemies
 and from the deep waters.
Do not let the flood sweep over me,
 or the deep swallow me up,
 or the Pit close its mouth over me.
Answer me, O Lord, for your steadfast love is good;
 according to your abundant mercy, turn to me.
Do not hide your face from your servant,
 for I am in distress—make haste to answer me.
Draw near to me, redeem me,
 set me free because of my enemies.
Semi-continuous Psalm 86:1-10
Incline your ear, O Lord, and answer me,
 for I am poor and needy.
Preserve my life, for I am devoted to you;
 save your servant who trusts in you.
You are my God;
 be gracious to me, O Lord,
 for to you do I cry all day long.
Gladden the soul of your servant,
 for to you, O Lord, I lift up my soul.
For you, O Lord, are good and forgiving,
 abounding in steadfast love to all who call on you.
Give ear, O Lord, to my prayer;
 listen to my cry of supplication.
In the day of my trouble I call on you,
 for you will answer me.
There is none like you among the gods, O Lord,
 nor are there any works like yours.
All the nations you have made
 shall come and bow down before you, O Lord,
 and shall glorify your name.
For you are great and do wondrous things;
 you alone are God.
New Testament Epistle Lesson: Hebrews 2:5-9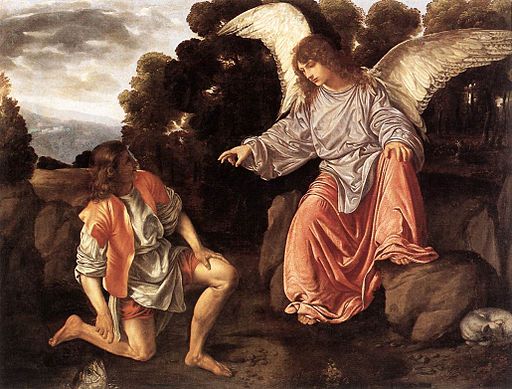 New Testament Epistle Lesson: Hebrews 2:5-9
Now God did not subject the coming world, about which we are speaking, to angels. But someone has testified somewhere,
"What are human beings
 that you are mindful of them,
 or mortals, that you care for them?
You have made them for a little while
 lower than the angels;
 you have crowned them
 with glory and honor,
 subjecting all things under their feet."¹
Now in subjecting all things to them, God left nothing outside their control. As it is, we do not yet see everything in subjection to them, but we do see Jesus, who for a little while was made lower than the angels, now crowned with glory and honor because of the suffering of death, so that by the grace of God he might taste death for everyone.
¹Psalm 8:4-6
Year A Ordinary 12, RCL Proper 7, Catholic Proper 12 Thursday
Bible verses from The New Revised Standard Version, copyright 1989 by the Division of Christian Education of the National Council of Churches of Christ in the United States of America. Used by permission. All right reserved.

Selections from Revised Common Lectionary Daily Readings, copyright 1985 by the Consultation on Common Texts.

Image Credit: Tobias and the Angel by Girolamo Savoldo, via Wikimedia Commons. This is a public domain image.