Monday: Reflection on the Fourteenth Sunday in Ordinary Time
Revised Common Lectionary Proper 9
Roman Catholic Proper 14
Complementary Hebrew Scripture: Jeremiah 27:1-11,16-22
In the beginning of the reign of King Zedekiah son of Josiah of Judah, this word came to Jeremiah from the LORD. Thus the LORD said to me: Make yourself a yoke of straps and bars, and put them on your neck. Send word to the king of Edom, the king of Moab, the king of the Ammonites, the king of Tyre, and the king of Sidon by the hand of the envoys who have come to Jerusalem to King Zedekiah of Judah. Give them this charge for their masters: Thus says the LORD of hosts, the God of Israel: This is what you shall say to your masters: It is I who by my great power and my outstretched arm have made the earth, with the people and animals that are on the earth, and I give it to whomever I please. Now I have given all these lands into the hand of King Nebuchadnezzar of Babylon, my servant, and I have given him even the wild animals of the field to serve him. All the nations shall serve him and his son and his grandson, until the time of his own land comes; then many nations and great kings shall make him their slave. But if any nation or kingdom will not serve this king, Nebuchadnezzar of Babylon, and put its neck under the yoke of the king of Babylon, then I will punish that nation with the sword, with famine, and with pestilence, says the LORD, until I have completed its destruction by his hand. You, therefore, must not listen to your prophets, your diviners, your dreamers, your soothsayers, or your sorcerers, who are saying to you, 'You shall not serve the king of Babylon.' For they are prophesying a lie to you, with the result that you will be removed far from your land; I will drive you out, and you will perish. But any nation that will bring its neck under the yoke of the king of Babylon and serve him, I will leave on its own land, says the LORD, to till it and live there.
Then I spoke to the priests and to all this people, saying, Thus says the LORD: Do not listen to the words of your prophets who are prophesying to you, saying, "The vessels of the LORD's house will soon be brought back from Babylon," for they are prophesying a lie to you. Do not listen to them; serve the king of Babylon and live. Why should this city become a desolation? If indeed they are prophets, and if the word of the LORD is with them, then let them intercede with the LORD of hosts, that the vessels left in the house of the LORD, in the house of the king of Judah, and in Jerusalem may not go to Babylon. For thus says the LORD of hosts concerning the pillars, the sea, the stands, and the rest of the vessels that are left in this city, which King Nebuchadnezzar of Babylon did not take away when he took into exile from Jerusalem to Babylon King Jeconiah son of Jehoiakim of Judah, and all the nobles of Judah and Jerusalem—thus says the LORD of hosts, the God of Israel, concerning the vessels left in the house of the LORD, in the house of the king of Judah, and in Jerusalem: They shall be carried to Babylon, and there they shall stay, until the day when I give attention to them, says the LORD. Then I will bring them up and restore them to this place.
Semi-continuous Hebrew Scripture: Genesis 27:30-46
As soon as Isaac had finished blessing Jacob, when Jacob had scarcely gone out from the presence of his father Isaac, his brother Esau came in from his hunting. He also prepared savory food, and brought it to his father. And he said to his father, "Let my father sit up and eat of his son's game, so that you may bless me." His father Isaac said to him, "Who are you?" He answered, "I am your firstborn son, Esau." Then Isaac trembled violently, and said, "Who was it then that hunted game and brought it to me, and I ate it all before you came, and I have blessed him?—yes, and blessed he shall be!" When Esau heard his father's words, he cried out with an exceedingly great and bitter cry, and said to his father, "Bless me, me also, father!" But he said, "Your brother came deceitfully, and he has taken away your blessing." Esau said, "Is he not rightly named Jacob? For he has supplanted me these two times. He took away my birthright; and look, now he has taken away my blessing." Then he said, "Have you not reserved a blessing for me?" Isaac answered Esau, "I have already made him your lord, and I have given him all his brothers as servants, and with grain and wine I have sustained him. What then can I do for you, my son?" Esau said to his father, "Have you only one blessing, father? Bless me, me also, father!" And Esau lifted up his voice and wept.
Then his father Isaac answered him:
"See, away from the fatness of the earth
 shall your home be,
 and away from the dew of heaven on high.
By your sword you shall live,
 and you shall serve your brother;
 but when you break loose,
 you shall break his yoke from your neck."
Now Esau hated Jacob because of the blessing with which his father had blessed him, and Esau said to himself, "The days of mourning for my father are approaching; then I will kill my brother Jacob." But the words of her elder son Esau were told to Rebekah; so she sent and called her younger son Jacob and said to him, "Your brother Esau is consoling himself by planning to kill you. Now therefore, my son, obey my voice; flee at once to my brother Laban in Haran, and stay with him a while, until your brother's fury turns away—until your brother's anger against you turns away, and he forgets what you have done to him; then I will send, and bring you back from there. Why should I lose both of you in one day?"
Then Rebekah said to Isaac, "I am weary of my life because of the Hittite women. If Jacob marries one of the Hittite women such as these, one of the women of the land, what good will my life be to me?"
Complementary Psalm 131
O Lord, my heart is not lifted up,
 my eyes are not raised too high;
 I do not occupy myself with things too great
 and too marvelous for me.
But I have calmed and quieted my soul,
 like a weaned child with its mother;
 my soul is like the weaned child that is with me.
O Israel, hope in the Lord
 from this time on and forevermore.
Semi-continuous Canticle: Song of Solomon 2:8-13
The voice of my beloved!
 Look, he comes, leaping upon the mountains,
 bounding over the hills.
My beloved is like a gazelle
 or a young stag.
Look, there he stands behind our wall,
 gazing in at the windows,
 looking through the lattice.
My beloved speaks and says to me:
 "Arise, my love, my fair one,
 and come away;
  for now the winter is past,
  the rain is over and gone.

 

"The flowers appear on the earth;
  the time of singing has come,
  and the voice of the turtledove
 is heard in our land.

"The fig tree puts forth its figs,
  and the vines are in blossom;
  they give forth fragrance.

"Arise, my love, my fair one,
 and come away."
New Testament Epistle Lesson: Romans 1:18-25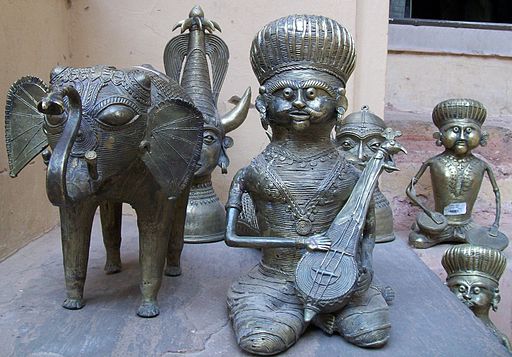 For the wrath of God is revealed from heaven against all ungodliness and wickedness of those who by their wickedness suppress the truth. For what can be known about God is plain to them, because God has shown it to them. Ever since the creation of the world his eternal power and divine nature, invisible though they are, have been understood and seen through the things he has made. So they are without excuse; for though they knew God, they did not honor him as God or give thanks to him, but they became futile in their thinking, and their senseless minds were darkened. Claiming to be wise, they became fools; and they exchanged the glory of the immortal God for images resembling a mortal human being or birds or four-footed animals or reptiles. Therefore God gave them up in the lusts of their hearts to impurity, to the degrading of their bodies among themselves, because they exchanged the truth about God for a lie and worshiped and served the creature rather than the Creator, who is blessed forever! Amen.
Year A Ordinary 14, RCL Proper 9, Catholic Proper 14 Monday
Bible verses from The New Revised Standard Version, copyright 1989 by the Division of Christian Education of the National Council of Churches of Christ in the United States of America. Used by permission. All right reserved.

Selections from Revised Common Lectionary Daily Readings, copyright 1985 by Consultation on Common Texts.

Image Credit: Bronze Idols kept for sale inside the Amber fort, Jaipur, India image by Balajijagadesh, via Wikimedia Commons. This image is licensed under the Creative Commons Non Commercial Share Alike license.