Wednesday: Reflection on the Fourteenth Sunday in Ordinary Time
Revised Common Lectionary Proper 9
Roman Catholic Proper 14
Complementary Hebrew Scripture: Jeremiah 13:1-11
Thus said the LORD to me, "Go and buy yourself a linen loincloth, and put it on your loins, but do not dip it in water." So I bought a loincloth according to the word of the LORD, and put it on my loins. And the word of the LORD came to me a second time, saying, "Take the loincloth that you bought and are wearing, and go now to the Euphrates, and hide it there in a cleft of the rock." So I went, and hid it by the Euphrates, as the LORD commanded me. And after many days the LORD said to me, "Go now to the Euphrates, and take from there the loincloth that I commanded you to hide there." Then I went to the Euphrates, and dug, and I took the loincloth from the place where I had hidden it. But now the loincloth was ruined; it was good for nothing.
Then the word of the LORD came to me: Thus says the LORD: Just so I will ruin the pride of Judah and the great pride of Jerusalem. This evil people, who refuse to hear my words, who stubbornly follow their own will and have gone after other gods to serve them and worship them, shall be like this loincloth, which is good for nothing. For as the loincloth clings to one's loins, so I made the whole house of Israel and the whole house of Judah cling to me, says the LORD, in order that they might be for me a people, a name, a praise, and a glory. But they would not listen.
Semi-continuous Hebrew Scripture: Genesis 29:31-35
When the LORD saw that Leah was unloved, he opened her womb; but Rachel was barren. Leah conceived and bore a son, and she named him Reuben; for she said, "Because the LORD has looked on my affliction; surely now my husband will love me." She conceived again and bore a son, and said, "Because the LORD has heard that I am hated, he has given me this son also"; and she named him Simeon. Again she conceived and bore a son, and said, "Now this time my husband will be joined to me, because I have borne him three sons"; therefore he was named Levi. She conceived again and bore a son, and said, "This time I will praise the LORD"; therefore she named him Judah; then she ceased bearing.
Complementary Psalm 131
O Lord, my heart is not lifted up,
 my eyes are not raised too high;
 I do not occupy myself with things too great
 and too marvelous for me.
But I have calmed and quieted my soul,
 like a weaned child with its mother;
 my soul is like the weaned child that is with me.
O Israel, hope in the Lord
 from this time on and forevermore.
Semi-continuous Canticle: Song of Solomon 2:8-13
The voice of my beloved!
 Look, he comes, leaping upon the mountains,
 bounding over the hills.
My beloved is like a gazelle
 or a young stag.
Look, there he stands behind our wall,
 gazing in at the windows,
 looking through the lattice.
My beloved speaks and says to me:
 "Arise, my love, my fair one,
 and come away;
  for now the winter is past,
  the rain is over and gone.

 

"The flowers appear on the earth;
  the time of singing has come,
  and the voice of the turtledove
 is heard in our land.

"The fig tree puts forth its figs,
  and the vines are in blossom;
  they give forth fragrance.

"Arise, my love, my fair one,
 and come away."
New Testament Gospel Lesson: John 13:1-17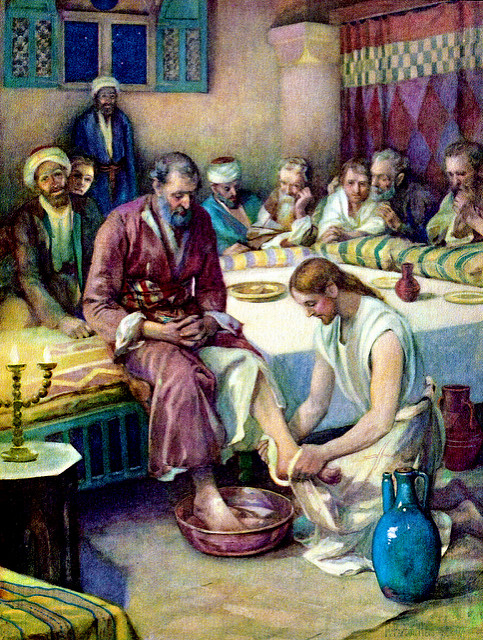 Now before the festival of the Passover, Jesus knew that his hour had come to depart from this world and go to the Father. Having loved his own who were in the world, he loved them to the end. The devil had already put it into the heart of Judas son of Simon Iscariot to betray him. And during supper Jesus, knowing that the Father had given all things into his hands, and that he had come from God and was going to God, got up from the table, took off his outer robe, and tied a towel around himself. Then he poured water into a basin and began to wash the disciples' feet and to wipe them with the towel that was tied around him. He came to Simon Peter, who said to him, "Lord, are you going to wash my feet?" Jesus answered, "You do not know now what I am doing, but later you will understand." Peter said to him, "You will never wash my feet." Jesus answered, "Unless I wash you, you have no share with me." Simon Peter said to him, "Lord, not my feet only but also my hands and my head!" Jesus said to him, "One who has bathed does not need to wash, except for the feet, but is entirely clean. And you are clean, though not all of you." For he knew who was to betray him; for this reason he said, "Not all of you are clean."
After he had washed their feet, had put on his robe, and had returned to the table, he said to them, "Do you know what I have done to you? You call me Teacher and Lord—and you are right, for that is what I am. So if I, your Lord and Teacher, have washed your feet, you also ought to wash one another's feet. For I have set you an example, that you also should do as I have done to you. Very truly, I tell you, servants are not greater than their master, nor are messengers greater than the one who sent them. If you know these things, you are blessed if you do them.
Year A Ordinary 14, RCL Proper 19, Catholic Proper 14 Wednesday
Bible verses from The New Revised Standard Version, copyright 1989 by the Division of Christian Education of the National Council of Churches of Christ in the United States of America. Used by permission. All right reserved.

Selections from Revised Common Lectionary Daily Readings, copyright 1985 by the Consultation on Common Texts.

Image Credit: Jesus Washes the Feet of His Disciples, image by Waiting for the Word via Flickr. This image is licensed under Creative Commons 2.0.