What's Ahead in the Bible Readings Starting July 13
Designations for this week: The Fifteenth Week in Ordinary Time, Roman Catholic Proper 15, Revised Common Lectionary Proper 10, The Sixth Sunday After Pentecost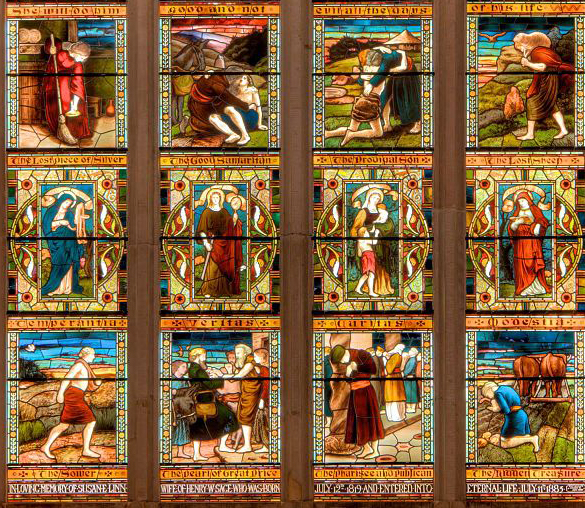 On Sunday we read the parable of the sower, and on Wednesday Jesus explains why he speaks in parables. This thought has often occurred to me: If Jesus were walking around in twenty-first century America he would not be using agriculture as the basis for his parables. How would he tell the parable of the sower today?
Here are a few lines from George A. Buttrick's book The Parables of Jesus, published in 1928:
Let the word "parable" be spoken, and certain well-loved pictures crowd in upon the mind. We see a rocky place where a man fell among thieves, a shepherd searching through mountains and night, a bend in the road where a prodigal boy caught sight of home. These pictures which instinctively appear are Jesus' art; the kingdom of parable pays willing fee to him.…Jesus is the Master of parable because he is the Master of Life.

 

The parables are the characteristic message of Jesus—"Without a parable he spake not unto them" (Mark 4:34). They are his most memorable message; for pictures are still etched in memory when the homily has become a blur. They are his most persuasive message; a prosier message might not break our stubborn will, but the sight of the father running to welcome his wayward son leaves us "defenseless utterly".…To know these incomparable stories is to know the teaching of Jesus, and the heart of the teacher.
It is entirely possible to take a different view of the parables. Here are a few lines from William R. Herzog II's book Parables as Subversive Speech, published in 1994:
The parables of Jesus have long been regarded as earthly stories with heavenly meanings. They have been viewed this way because Jesus was thought to be a teacher of spiritual truth and divine wisdom. However, this view of Jesus stands in tension with the account of his final trial and execution. If Jesus was a teacher of heavenly truths dispensed through literary gems called parables, it is difficult to understand how he cold have been executed as a political subversive and crucified between two social bandits. It appears that Jerusalem elites collaborating with their Roman overlords executed Jesus because he was a threat to their economic and political interests. Unless they perceived him to be a threat, they would not have publicly degraded and humiliated him before executing him in as ignominious a way as possible. This chapter attempts to answer that question in two ways: by interpreting the parables of Jesus as a form of subversive speech; and second, by connecting that view of the parables with an interpretation of Jesus' public activity large enough to encompass his role as pedagogue of the oppressed and political threat.
Whatever view you take, consider how a twenty-first century Jesus would tell the parable of the sower.
Remember that from now through Advent we have two series of readings, the complementary and the semi-continuous. Most denominations allow pastors to choose from either series. More information about the two series is here: Which Series?
Thursday: Preparation for the Fifteenth Sunday in Ordinary Time"
Complementary: Isaiah 48:1-5 Hear this, you who swear by the name of the Lord and invoke the God of Israel, but not in truth or in right.
Semi-continuous: Exodus 3:1-6 God appears to Moses in a flaming bush.
Both: Romans 2:12-16 It is not the hearers of the law who will be justified, but the doers.
Friday: Preparation for the Fifteenth Sunday in Ordinary Time
Complementary: Isaiah 48:6-11 I have refined you in the furnace of adversity.
Semi-continuous: Deuteronomy 32:1-10 The Song of Moses
Both: Romans 15:14-21 Paul's mission is to the Gentiles.
Saturday: Preparation for the Fifteenth Sunday in Ordinary Time
Complementary: Isaiah 52:1-6 You were sold for nothing, and you shall be redeemed without money.
Semi-continuous: Isaiah 2:1-4 God will judge between nations, and arbitrate for many peoples.
Both: John 12:44-50 Jesus cried, "I have come as light into the world, so that everyone who believes in me should not remain in the darkness.
The Fifteenth Sunday in Ordinary Time
Complementary: Isaiah 55:10-13 The word that goes out from God does not return empty, but accomplishes God's purpose.
Semi-continuous: Genesis 25:19-34 The twins Esau and Jacob are born. Esau sells his birthright for a bowl of stew.
Both: Romans 8:1-11 The Spirit of life in Christ Jesus has set you free from the law of sin and death.
Both: Matthew 13:1-9, 18-23 The parable of the sower.
Monday: Reflection on the Fifteenth Sunday in Ordinary Time
Complementary: Leviticus 26:3-20 If you keep my commandments, I will walk among you. But if you will not obey me, I will bring terror on you.
Semi-continuous: Micah 1:1-5 God is coming out of God's place and will tread upon the high places of the earth because of the transgressions of Jacob and the sin of Israel.
Both: 1 Thessalonians 4:1-8 God did not call us to impurity but in holiness.
Tuesday: Reflection on the Fifteenth Sunday in Ordinary Time
Complementary: Deuteronomy 28:1-14 The blessings of obedience to God's will
Semi-continuous: Jeremiah 49:7-11 Edom, the children of Esau, are punished.
Both: Ephesians 4:17-5:2 Live as imitators of God.
Wednesday: Reflection on the Fifteenth Sunday in Ordinary Time
Complementary: Proverbs 11:23-30 The desire of the righteous ends only in good' the expectation of the wicked ends in wrath.
Semi-continuous: Obadiah 15-21 Israel triumphs and Edom is defeated.
Both: Matthew 13:10-17 Jesus explains why he speaks in parables.
Please note that the links above do not become active until 7 a.m. US Eastern Time on the designated day, when the readings get posted on the new web site. If you need the Sunday reading earlier, please let me know and I will assist you.
Thank you for all the blessings that you provide to the world.
Mike Gilbertson
Do you have a friend who could us these readings?
If you know someone who could deepen his or her commitment to being a Christian through these readings, why not forward this newsletter to that person? Here is a link that leads to the sign up forms: Sign up links for daily and weekly emails
Bible verses from The New Revised Standard Version, copyright 1989 by the Division of Christian Education of the National Council of Churches of Christ in the United States of America. Used by permission. All right reserved.

Selections from Revised Common Lectionary Daily Readings, copyright 1995 by the Consultation on Common Texts.

Image credit: Parables of Jesus stained glass window in the apse of the Sage Chapel at Cornell University, The image was by Bestbudbrian, via Wikimedia Commons. The image was cropped by Michael Gilbertson. The image is used under the Creative Commons Share Alike License 4.0
What's Ahead Ordinary Time 15