Friday: Preparation for the Fifteenth Sunday in Ordinary Time
Revised Common Lectionary Proper 10
Roman Catholic Proper 15
Note: These readings were mistakenly sent last Friday, when only the Psalms were correct. Each section has a link to the reading that should have been sent.
Complementary Hebrew Scripture: Isaiah 48:6-11
This lesson was mistakenly included last Friday, when the lesson should have been Zechariah 2:6-13. Here is a link to that reading: Zechariah 2:6-13
You have heard; now see all this;
 and will you not declare it?
From this time forward I make you hear new things,
 hidden things that you have not known.
They are created now, not long ago;
 before today you have never heard of them,
 so that you could not say, "I already knew them."
You have never heard, you have never known,
 from of old your ear has not been opened.
For I knew that you would deal very treacherously,
 and that from birth you were called a rebel.
For my name's sake I defer my anger,
 for the sake of my praise I restrain it for you,
 so that I may not cut you off.
See, I have refined you, but not like silver;
 I have tested you in the furnace of adversity.
For my own sake, for my own sake, I do it,
 for why should my name be profaned?
 My glory I will not give to another.
Semi-continuous Hebrew Scripture: Deuteronomy 32:1-10
This lesson was mistakenly included last Friday, when the lesson should have been Genesis 27:1-17. Here is a link to that lesson: Genesis 27:1-17
Give ear, O heavens, and I will speak;
 let the earth hear the words of my mouth.
May my teaching drop like the rain,
 my speech condense like the dew;
 like gentle rain on grass,
 like showers on new growth.
For I will proclaim the name of the Lord;
 ascribe greatness to our God!
 The Rock, his work is perfect,
 and all his ways are just.
A faithful God, without deceit, just and upright is he;
 yet his degenerate children have dealt falsely with him,
 a perverse and crooked generation. Do you thus repay the Lord,
 O foolish and senseless people?
 Is not he your father, who created you,
 who made you and established you?
Remember the days of old, consider the years long past;
 ask your father, and he will inform you;
 your elders, and they will tell you.
When the Most High apportioned the nations,
 when he divided humankind,
 he fixed the boundaries of the peoples
 according to the number of the gods;
 the Lord's own portion was his people,
 Jacob his allotted share.
 He sustained him in a desert land,
 in a howling wilderness waste; he shielded him,
 cared for him, guarded him as the apple of his eye.
Complementary Psalm 65
Praise is due to you, O God, in Zion;
 and to you shall vows be performed,
 O you who answer prayer!
To you all flesh shall come.
When deeds of iniquity overwhelm us,
 you forgive our transgressions.
Happy are those whom you choose
 and bring near to live in your courts.
We shall be satisfied
 with the goodness of your house, your holy temple.
By awesome deeds you answer us with deliverance,
 O God of our salvation;
 you are the hope of all the ends of the earth
 and of the farthest seas.
By your strength you established the mountains;
 you are girded with might.
You silence the roaring of the seas,
 the roaring of their waves,
 the tumult of the peoples.
Those who live at earth's farthest bounds
 are awed by your signs;
 you make the gateways of the morning
 and the evening shout for joy.
You visit the earth and water it, you greatly enrich it;
 the river of God is full of water;
 you provide the people with grain,
 for so you have prepared it.
You water its furrows abundantly,
 settling its ridges,
 softening it with showers,
 and blessing its growth.
You crown the year with your bounty;
 your wagon tracks overflow with richness.
The pastures of the wilderness overflow,
 the hills gird themselves with joy,
 the meadows clothe themselves with flocks,
 the valleys deck themselves with grain,
 they shout and sing together for joy.
Semi-continuous Psalm 119:105-112
Your word is a lamp to my feet
 and a light to my path.
I have sworn an oath and confirmed it,
 to observe your righteous ordinances.
I am severely afflicted;
 give me life, O Lord, according to your word.
Accept my offerings of praise, O Lord,
 and teach me your ordinances.
I hold my life in my hand continually,
 but I do not forget your law.
The wicked have laid a snare for me,
 but I do not stray from your precepts.
Your decrees are my heritage forever;
 they are the joy of my heart.
I incline my heart to perform your statutes forever,
 to the end.
New Testament Epistle Lesson: Romans 15:14-21
This lesson was mistakenly included last Friday, when the lesson should have been Romans 7:7-20. Here is a link to that reading: Romans 7:7-20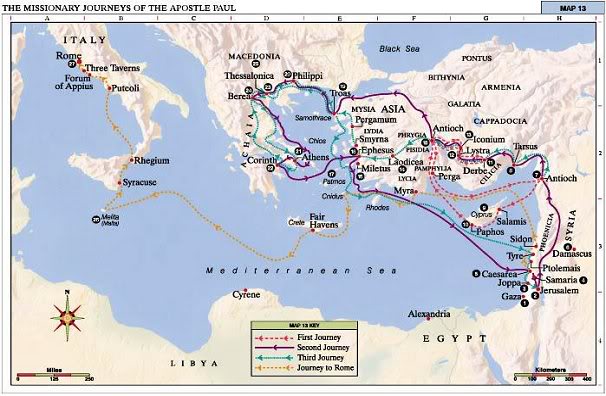 I myself feel confident about you, my brothers and sisters, that you yourselves are full of goodness, filled with all knowledge, and able to instruct one another. Nevertheless on some points I have written to you rather boldly by way of reminder, because of the grace given me by God to be a minister of Christ Jesus to the Gentiles in the priestly service of the gospel of God, so that the offering of the Gentiles may be acceptable, sanctified by the Holy Spirit. In Christ Jesus, then, I have reason to boast of my work for God. For I will not venture to speak of anything except what Christ has accomplished through me to win obedience from the Gentiles, by word and deed, by the power of signs and wonders, by the power of the Spirit of God, so that from Jerusalem and as far around as Illyricum I have fully proclaimed the good news of Christ. Thus I make it my ambition to proclaim the good news, not where Christ has already been named, so that I do not build on someone else's foundation, but as it is written,
"Those who have never been told of him shall see,
 and those who have never heard of him shall understand."¹
¹Isaiah 52:15
Year A Ordinary 15, RCL Proper 10, Catholic Proper 15 Friday
Bible verses from The New Revised Standard Version, copyright 1989 by the Division of Christian Education of the National Council of Churches of Christ in the United States of America. Used by permission. All right reserved.

Selections from Revised Common Lectionary Daily Readings, copyright 1985 by the Consultation on Common Texts.

Image Credit: The Missionary Journeys of the Apostle Paul, downloaded from http://www.freeforumzone.com/discussione.aspx?idd=7636614. Neither the mapmaker nor the original source is known.. This is a public domain image.