Thursday: Preparation for the Sixteenth Sunday in Ordinary Time
Revised Common Lectionary Proper 11
Roman Catholic Proper 16
Complementary Hebrew Scripture: Isaiah 41:21-29
Set forth your case, says the Lord;
 bring your proofs, says the King of Jacob.
Let them bring them, and tell us what is to happen.
Tell us the former things, what they are,
 so that we may consider them,
 and that we may know their outcome;
 or declare to us the things to come.
Tell us what is to come hereafter,
 that we may know that you are gods;
 do good, or do harm,
 that we may be afraid and terrified.
You, indeed, are nothing
 and your work is nothing at all;
 whoever chooses you is an abomination.
I stirred up one from the north, and he has come
 from the rising of the sun
 he was summoned by name.
 He shall trample on rulers as on mortar,
 as the potter treads clay.
Who declared it from the beginning,
 so that we might know, and beforehand,
 so that we might say, "He is right"?
There was no one who declared it,
 none who proclaimed, none who heard your words.
I first have declared it to Zion,
 and I give to Jerusalem a herald of good tidings.
But when I look there is no one;
 among these there is no counselor who,
 when I ask, gives an answer.
No, they are all a delusion;
 their works are nothing;
 their images are empty wind.
Semi-continuous Hebrew Scripture: Isaiah 44:1-5
But now hear, O Jacob my servant, Israel whom I have chosen!
Thus says the Lord who made you,
 who formed you in the womb and will help you:
 Do not fear, O Jacob my servant,
 Jeshurun whom I have chosen.
For I will pour water on the thirsty land,
 and streams on the dry ground;
 I will pour my spirit upon your descendants,
 and my blessing on your offspring.
They shall spring up like a green tamarisk,
 like willows by flowing streams.
 This one will say, "I am the Lord's,"
 another will be called by the name of Jacob,
 yet another will write on the hand,
 "The Lord's," and adopt the name of Israel.
Complementary Psalm 86:11-17
Teach me your way, O Lord,
 that I may walk in your truth;
 give me an undivided heart to revere your name.
I give thanks to you, O Lord my God,
 with my whole heart,
 and I will glorify your name forever.
For great is your steadfast love toward me;
 you have delivered my soul
 from the depths of Sheol.
O God, the insolent rise up against me;
 a band of ruffians seeks my life,
 and they do not set you before them.
But you, O Lord, are a God merciful and gracious,
 slow to anger
 and abounding in steadfast love and faithfulness.
Turn to me and be gracious to me;
 give your strength to your servant;
 save the child of your serving girl.
Show me a sign of your favor,
 so that those who hate me may see it
 and be put to shame,
 because you, Lord, have helped me
 and comforted me.
Semi-continuous Psalm 139:1-12, 23-24
O Lord, you have searched me and known me.
You know when I sit down and when I rise up;
 you discern my thoughts from far away.
You search out my path and my lying down,
 and are acquainted with all my ways.
Even before a word is on my tongue,
 O Lord, you know it completely.
You hem me in, behind and before,
 and lay your hand upon me.
Such knowledge is too wonderful for me;
 it is so high that I cannot attain it.
Where can I go from your spirit?
 Or where can I flee from your presence?
If I ascend to heaven, you are there;
 if I make my bed in Sheol, you are there.
If I take the wings of the morning
 and settle at the farthest limits of the sea,
 even there your hand shall lead me,
 and your right hand shall hold me fast.
If I say, "Surely the darkness shall cover me,
 and the light around me become night,"
 even the darkness is not dark to you;
 the night is as bright as the day,
 for darkness is as light to you.
Search me, O God, and know my heart;
 test me and know my thoughts.
See if there is any wicked way in me,
 and lead me in the way everlasting.
New Testament Epistle Lesson: Hebrews 2:1-9
Therefore we must pay greater attention to what we have heard, so that we do not drift away from it. For if the message declared through angels was valid, and every transgression or disobedience received a just penalty, how can we escape if we neglect so great a salvation? It was declared at first through the Lord, and it was attested to us by those who heard him, while God added his testimony by signs and wonders and various miracles, and by gifts of the Holy Spirit, distributed according to his will. Now God did not subject the coming world, about which we are speaking, to angels. But someone has testified somewhere,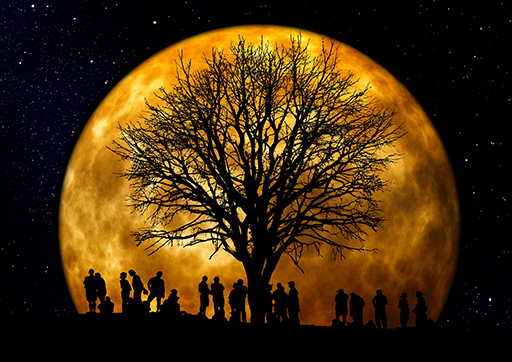 "What are human beings that you are mindful of them, or mortals, that you care for them? You have made them for a little while lower than the angels; you have crowned them with glory and honor, subjecting all things under their feet."¹
Now in subjecting all things to them, God left nothing outside their control. As it is, we do not yet see everything in subjection to them, but we do see Jesus, who for a little while was made lower than the angels, now crowned with glory and honor because of the suffering of death, so that by the grace of God he might taste death for everyone.
¹Psalm 8:4-6
Year A Ordinary 16, RCL Proper 11, Catholic Proper 16 Thursday
Bible verses from The New Revised Standard Version, copyright 1989 by the Division of Christian Education of the National Council of Churches of Christ in the United States of America. Used by permission. All right reserved.

Selections from Revised Common Lectionary Daily Readings, copyright 1985 by the Consultation on Common Texts.

Image Credit: People Standing Near a Tree Under the Moon by Gerd Altmann, via Pexels. This is a public domain image.