Wednesday: Reflection on the Fifteenth Sunday in Ordinary Time
Revised Common Lectionary Proper 10
Roman Catholic Proper 15
Complementary Hebrew Scripture: Proverbs 11:23-30
The desire of the righteous ends only in good;
 the expectation of the wicked in wrath.
Some give freely, yet grow all the richer;
 others withhold what is due, and only suffer want.
A generous person will be enriched,
 and one who gives water will get water.
The people curse those who hold back grain,
 but a blessing is on the head of those who sell it.
Whoever diligently seeks good seeks favor,
 but evil comes to the one who searches for it.
Those who trust in their riches will wither,
 but the righteous will flourish like green leaves.
Those who trouble their households will inherit wind,
 and the fool will be servant to the wise.
The fruit of the righteous is a tree of life,
 but violence takes lives away.
Semi-continuous Hebrew Scripture: Obadiah 15-21
For the day of the Lord is near against all the nations.
 As you have done, it shall be done to you;
  your deeds shall return on your own head.
 For as you have drunk on my holy mountain,
  all the nations around you shall drink;
  they shall drink and gulp down,
  and shall be as though they had never been.
But on Mount Zion there shall be those that escape,
 and it shall be holy;
 and the house of Jacob
  shall take possession of those who dispossessed them.
The house of Jacob shall be a fire,
 the house of Joseph a flame,
  and the house of Esau stubble;
  they shall burn them and consume them,
  and there shall be no survivor
  of the house of Esau;
  for the Lord has spoken.
 Those of the Negeb shall possess Mount Esau,
  and those of the Shephelah
  the land of the Philistines;
  they shall possess the land of Ephraim
  and the land of Samaria,
  and Benjamin shall possess Gilead.
 The exiles of the Israelites who are in Halah
  shall possess Phoenicia as far as Zarephath;
  and the exiles of Jerusalem who are in Sepharad
  shall possess the towns of the Negeb.
 Those who have been saved
  shall go up to Mount Zion to rule Mount Esau;
  and the kingdom shall be the Lord's.
Complementary Psalm 92
It is good to give thanks to the Lord,
 to sing praises to your name, O Most High;
 to declare your steadfast love in the morning,
 and your faithfulness by night,
 to the music of the lute and the harp,
 to the melody of the lyre.
For you, O Lord, have made me glad by your work;
 at the works of your hands I sing for joy.
How great are your works, O Lord!
Your thoughts are very deep!
The dullard cannot know, the stupid cannot understand this:
 though the wicked sprout like grass
 and all evildoers flourish,
 they are doomed to destruction forever,
 but you, O Lord, are on high forever.
For your enemies, O Lord, for your enemies shall perish;
 all evildoers shall be scattered.
But you have exalted my horn like that of the wild ox;
 you have poured over me fresh oil.
My eyes have seen the downfall of my enemies;
 my ears have heard the doom of my evil assailants.
The righteous flourish like the palm tree,
 and grow like a cedar in Lebanon.
They are planted in the house of the Lord;
 they flourish in the courts of our God.
In old age they still produce fruit;
 they are always green and full of sap,
 showing that the Lord is upright;
 he is my rock,
 and there is no unrighteousness in him.
Semi-continuous Psalm 142
With my voice I cry to the Lord;
 with my voice I make supplication to the Lord.
I pour out my complaint before him;
 I tell my trouble before him.
When my spirit is faint, you know my way.
 In the path where I walk
 they have hidden a trap for me.
Look on my right hand and see—
 there is no one who takes notice of me;
 no refuge remains to me; no one cares for me.
I cry to you, O Lord;
 I say, "You are my refuge,
 my portion in the land of the living."
Give heed to my cry,
 for I am brought very low.
Save me from my persecutors,
 for they are too strong for me.
Bring me out of prison,
 so that I may give thanks to your name.
The righteous will surround me,
 for you will deal bountifully with me.
New Testament Gospel Lesson: Matthew 13:10-17
[This discourse comes between Jesus' telling of the parable of the sower and his explanation of it. We read both of these on Sunday.]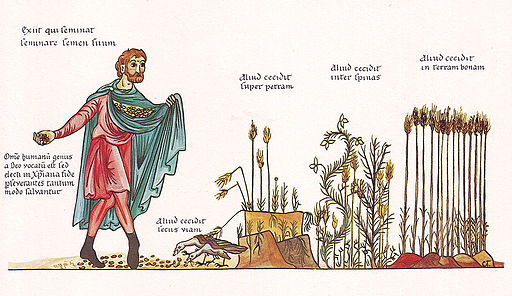 Then the disciples came and asked him, "Why do you speak to them in parables?" He answered, "To you it has been given to know the secrets of the kingdom of heaven, but to them it has not been given. For to those who have, more will be given, and they will have an abundance; but from those who have nothing, even what they have will be taken away. The reason I speak to them in parables is that 'seeing they do not perceive, and hearing they do not listen, nor do they understand.' With them indeed is fulfilled the prophecy of Isaiah that says:
'You will indeed listen,
 but never understand,
and you will indeed look,
 but never perceive.
For this people's heart has grown dull,
 and their ears are hard of hearing,
 and they have shut their eyes;
 so that they might not look with their eyes,
 and listen with their ears,
 and understand with their heart and turn—
 and I would heal them.'¹
But blessed are your eyes, for they see, and your ears, for they hear. Truly I tell you, many prophets and righteous people longed to see what you see, but did not see it, and to hear what you hear, but did not hear it."
¹Isaiah 6:9-10
Year A Ordinary 15, RCL Proper 10, Catholic Proper 15 Wednesday
Bible verses from The New Revised Standard Version, copyright 1989 by the Division of Christian Education of the National Council of Churches of Christ in the United States of America. Used by permission. All right reserved.

Selections from Revised Common Lectionary Daily Readings, copyright 1985 by the Consultation on Common Texts.

Image Credit: The Parable of the Sower by Herrad of Landsberg via Wikimedia Commons, included in Hortus Deliciarum. A photograph of the image was taken by by Dnalor_01 and is licensed under the Creative Commons 3.0 Share Alike license.