Tuesday: Reflection on the Sixteenth Sunday in Ordinary Time
Revised Common Lectionary Proper 11
Roman Catholic Proper 16
Complementary Hebrew Scripture: Zephaniah 3:1-13
Ah, soiled, defiled, oppressing city!
 It has listened to no voice;
 it has accepted no correction.
 It has not trusted in the Lord;
 it has not drawn near to its God.
The officials within it are roaring lions;
 its judges are evening wolves
 that leave nothing until the morning.
 Its prophets are reckless, faithless persons;
 its priests have profaned what is sacred,
 they have done violence to the law.
The Lord within it is righteous;
 he does no wrong.
 Every morning he renders his judgment,
 each dawn without fail;
 but the unjust knows no shame.
I have cut off nations; their battlements are in ruins;
 I have laid waste their streets
 so that no one walks in them;
 their cities have been made desolate,
 without people, without inhabitants.
I said, "Surely the city will fear me,
 it will accept correction;
 it will not lose sight
 of all that I have brought upon it."
 But they were the more eager
 to make all their deeds corrupt.
Therefore wait for me, says the Lord,
 for the day when I arise as a witness.
 For my decision is to gather nations,
 to assemble kingdoms,
 to pour out upon them my indignation,
 all the heat of my anger;
 for in the fire of my passion
 all the earth shall be consumed.
At that time I will change
 the speech of the peoples to a pure speech,
 that all of them may call on the name of the Lord
 and serve him with one accord.
From beyond the rivers of Ethiopia my suppliants,
 my scattered ones, shall bring my offering.
On that day you shall not be put to shame
 because of all the deeds
 by which you have rebelled against me;
 for then I will remove from your midst
 your proudly exultant ones,
 and you shall no longer be haughty
 in my holy mountain.
For I will leave in the midst of you a people humble and lowly.
 They shall seek refuge in the name of the Lord—
 the remnant of Israel;
 they shall do no wrong and utter no lies,
 nor shall a deceitful tongue
 be found in their mouths.
 Then they will pasture and lie down,
 and no one shall make them afraid.
Semi-continuous Hebrew Scripture: Genesis 33:1-17
Now Jacob looked up and saw Esau coming, and four hundred men with him. So he divided the children among Leah and Rachel and the two maids. He put the maids with their children in front, then Leah with her children, and Rachel and Joseph last of all. He himself went on ahead of them, bowing himself to the ground seven times, until he came near his brother.
But Esau ran to meet him, and embraced him, and fell on his neck and kissed him, and they wept. When Esau looked up and saw the women and children, he said, "Who are these with you?" Jacob said, "The children whom God has graciously given your servant." Then the maids drew near, they and their children, and bowed down; Leah likewise and her children drew near and bowed down; and finally Joseph and Rachel drew near, and they bowed down. Esau said, "What do you mean by all this company that I met?" Jacob answered, "To find favor with my lord." But Esau said, "I have enough, my brother; keep what you have for yourself." Jacob said, "No, please; if I find favor with you, then accept my present from my hand; for truly to see your face is like seeing the face of God—since you have received me with such favor. Please accept my gift that is brought to you, because God has dealt graciously with me, and because I have everything I want." So he urged him, and he took it.
Then Esau said, "Let us journey on our way, and I will go alongside you." But Jacob said to him, "My lord knows that the children are frail and that the flocks and herds, which are nursing, are a care to me; and if they are overdriven for one day, all the flocks will die. Let my lord pass on ahead of his servant, and I will lead on slowly, according to the pace of the cattle that are before me and according to the pace of the children, until I come to my lord in Seir."
So Esau said, "Let me leave with you some of the people who are with me." But he said, "Why should my lord be so kind to me?" So Esau returned that day on his way to Seir. But Jacob journeyed to Succoth, and built himself a house, and made booths for his cattle; therefore the place is called Succoth.
Complementary Psalm 75
We give thanks to you, O God;
 we give thanks; your name is near.
People tell of your wondrous deeds.
At the set time that I appoint I will judge with equity.
When the earth totters,
 with all its inhabitants,
 it is I who keep its pillars steady. Selah
I say to the boastful, "Do not boast,"
 and to the wicked, "Do not lift up your horn;
 do not lift up your horn on high,
 or speak with insolent neck."
For not from the east or from the west
 and not from the wilderness comes lifting up;
 but it is God who executes judgment,
 putting down one and lifting up another.
For in the hand of the Lord
 there is a cup with foaming wine, well mixed;
 he will pour a draught from it,
 and all the wicked of the earth
 shall drain it down to the dregs.
But I will rejoice forever;
 I will sing praises to the God of Jacob.
All the horns of the wicked I will cut off,
 but the horns of the righteous shall be exalted.
Semi-continuous Psalm 139:13-18
For it was you who formed my inward parts;
 you knit me together in my mother's womb.
I praise you, for I am fearfully and wonderfully made.
Wonderful are your works;
 that I know very well.
My frame was not hidden from you,
 when I was being made in secret,
 intricately woven in the depths of the earth.
Your eyes beheld my unformed substance.
In your book were written
 all the days that were formed for me,
 when none of them as yet existed.
How weighty to me are your thoughts, O God!
How vast is the sum of them!
I try to count them—
 they are more than the sand;
 I come to the end—I am still with you.
New Testament Epistle Lesson: Galatians 4:21-5:1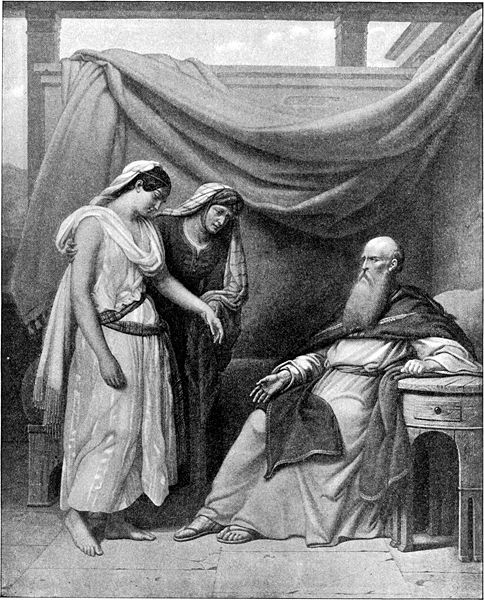 Tell me, you who desire to be subject to the law, will you not listen to the law? For it is written that Abraham had two sons, one by a slave woman and the other by a free woman. One, the child of the slave, was born according to the flesh; the other, the child of the free woman, was born through the promise. Now this is an allegory: these women are two covenants. One woman, in fact, is Hagar, from Mount Sinai, bearing children for slavery. Now Hagar is Mount Sinai in Arabia and corresponds to the present Jerusalem, for she is in slavery with her children. But the other woman corresponds to the Jerusalem above; she is free, and she is our mother. For it is written,
"Rejoice, you childless one,
 you who bear no children,
 burst into song and shout,
 you who endure no birth pangs;
for the children of the desolate woman
 are more numerous
 than the childre
 of the one who is married."¹
Now you, my friends, are children of the promise, like Isaac. But just as at that time the child who was born according to the flesh persecuted the child who was born according to the Spirit, so it is now also. But what does the scripture say? "Drive out the slave and her child; for the child of the slave will not share the inheritance with the child of the free woman."² So then, friends, we are children, not of the slave but of the free woman.
For freedom Christ has set us free. Stand firm, therefore, and do not submit again to a yoke of slavery.
¹Isaiah 54:1
²Genesis 21:10
Year A Ordinary 16, RCL Proper 11, Catholic Proper 16 Tuesday
Bible verses from The New Revised Standard Version, copyright 1989 by the Division of Christian Education of the National Council of Churches of Christ in the United States of America. Used by permission. All right reserved.

Selections from Revised Common Lectionary Daily Readings, copyright 1985 by the Consultation on Common Texts.

Image Credit: Abraham, Sarah and Hagar from Bible Pictures with brief descriptions by Charles Foster, via Wikimedia Commons. This is a public domain image.