Wednesday: Reflection on the Sixteenth Sunday in Ordinary Time
Revised Common Lectionary Proper 11
Roman Catholic Proper 16
Complementary Hebrew Scripture: Daniel 12:1-13
"At that time Michael, the great prince, the protector of your people, shall arise. There shall be a time of anguish, such as has never occurred since nations first came into existence. But at that time your people shall be delivered, everyone who is found written in the book. Many of those who sleep in the dust of the earth shall awake, some to everlasting life, and some to shame and everlasting contempt. Those who are wise shall shine like the brightness of the sky, and those who lead many to righteousness, like the stars forever and ever. But you, Daniel, keep the words secret and the book sealed until the time of the end. Many shall be running back and forth, and evil shall increase."
Then I, Daniel, looked, and two others appeared, one standing on this bank of the stream and one on the other. One of them said to the man clothed in linen, who was upstream, "How long shall it be until the end of these wonders?" The man clothed in linen, who was upstream, raised his right hand and his left hand toward heaven. And I heard him swear by the one who lives forever that it would be for a time, two times, and half a time, and that when the shattering of the power of the holy people comes to an end, all these things would be accomplished. I heard but could not understand; so I said, "My lord, what shall be the outcome of these things?" He said, "Go your way, Daniel, for the words are to remain secret and sealed until the time of the end. Many shall be purified, cleansed, and refined, but the wicked shall continue to act wickedly. None of the wicked shall understand, but those who are wise shall understand. From the time that the regular burnt offering is taken away and the abomination that desolates is set up, there shall be one thousand two hundred ninety days. Happy are those who persevere and attain the thousand three hundred thirty-five days. But you, go your way, and rest; you shall rise for your reward at the end of the days."
Semi-continuous Hebrew Scripture: Genesis 35:16-29
Then they journeyed from Bethel; and when they were still some distance from Ephrath, Rachel was in childbirth, and she had hard labor. When she was in her hard labor, the midwife said to her, "Do not be afraid; for now you will have another son." As her soul was departing (for she died), she named him Ben-oni; but his father called him Benjamin. So Rachel died, and she was buried on the way to Ephrath (that is, Bethlehem), and Jacob set up a pillar at her grave; it is the pillar of Rachel's tomb, which is there to this day. Israel journeyed on, and pitched his tent beyond the tower of Eder.
While Israel lived in that land, Reuben went and lay with Bilhah his father's concubine; and Israel heard of it.
Now the sons of Jacob were twelve. The sons of Leah: Reuben (Jacob's firstborn), Simeon, Levi, Judah, Issachar, and Zebulun. The sons of Rachel: Joseph and Benjamin. The sons of Bilhah, Rachel's maid: Dan and Naphtali. The sons of Zilpah, Leah's maid: Gad and Asher. These were the sons of Jacob who were born to him in Paddan-aram.
Jacob came to his father Isaac at Mamre, or Kiriath-arba (that is, Hebron), where Abraham and Isaac had resided as aliens. Now the days of Isaac were one hundred eighty years. And Isaac breathed his last; he died and was gathered to his people, old and full of days; and his sons Esau and Jacob buried him.
Complementary Psalm 75
We give thanks to you, O God;
 we give thanks; your name is near.
People tell of your wondrous deeds.
At the set time that I appoint I will judge with equity.
When the earth totters,
 with all its inhabitants,
 it is I who keep its pillars steady. Selah
I say to the boastful, "Do not boast,"
 and to the wicked, "Do not lift up your horn;
 do not lift up your horn on high,
 or speak with insolent neck."
For not from the east or from the west
 and not from the wilderness comes lifting up;
 but it is God who executes judgment,
 putting down one and lifting up another.
For in the hand of the Lord
 there is a cup with foaming wine, well mixed;
 he will pour a draught from it,
 and all the wicked of the earth
 shall drain it down to the dregs.
But I will rejoice forever;
 I will sing praises to the God of Jacob.
All the horns of the wicked I will cut off,
 but the horns of the righteous shall be exalted.
Semi-continuous Psalm 139:13-18
For it was you who formed my inward parts;
 you knit me together in my mother's womb.
I praise you, for I am fearfully and wonderfully made.
Wonderful are your works;
 that I know very well.
My frame was not hidden from you,
 when I was being made in secret,
 intricately woven in the depths of the earth.
Your eyes beheld my unformed substance.
In your book were written
 all the days that were formed for me,
 when none of them as yet existed.
How weighty to me are your thoughts, O God!
How vast is the sum of them!
I try to count them—
 they are more than the sand;
 I come to the end—I am still with you.
New Testament Gospel Lesson: Matthew 12:14-21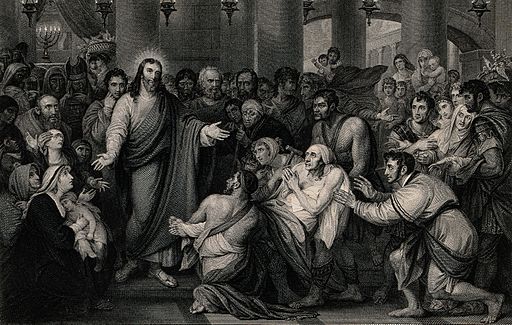 But the Pharisees went out and conspired against him, how to destroy him.
When Jesus became aware of this, he departed. Many crowds followed him, and he cured all of them, and he ordered them not to make him known. This was to fulfill what had been spoken through the prophet Isaiah:
"Here is my servant, whom I have chosen,
 my beloved, with whom my soul is well pleased.
I will put my Spirit upon him,
 and he will proclaim justice to the Gentiles.
He will not wrangle or cry aloud,
 nor will anyone hear his voice in the streets.
He will not break a bruised reed or quench a smoldering wick
 until he brings justice to victory.
And in his name the Gentiles will hope."¹
¹Isaiah 42:1-4
Year A Ordinary 16, RCL Proper 11, Catholic Proper 16 Wednesday
Bible verses from The New Revised Standard Version, copyright 1989 by the Division of Christian Education of the National Council of Churches of Christ in the United States of America. Used by permission. All right reserved.

Selections from Revised Common Lectionary Daily Readings, copyright 1985 by the Consultation on Common Texts.

Image Credit: Crowds Gather As Christ Heals the Sick engraving by Thomas Phillibrown after Benjamin West. This file comes from Wellcome Images, a website operated by Wellcome Trust, a global charitable foundation based in the United Kingdom. This image is used under Creative Commons Share Alike License 4.0.