Friday: Preparation for the Seventeenth Sunday in Ordinary Time
Revised Common Lectionary Proper 12
Roman Catholic Proper 17
Complementary Hebrew Scripture:1 Kings 1:38-48
So the priest Zadok, the prophet Nathan, and Benaiah son of Jehoiada, and the Cherethites and the Pelethites, went down and had Solomon ride on King David's mule, and led him to Gihon. There the priest Zadok took the horn of oil from the tent and anointed Solomon. Then they blew the trumpet, and all the people said, "Long live King Solomon!" And all the people went up following him, playing on pipes and rejoicing with great joy, so that the earth quaked at their noise.
Adonijah and all the guests who were with him heard it as they finished feasting. When Joab heard the sound of the trumpet, he said, "Why is the city in an uproar?" While he was still speaking, Jonathan son of the priest Abiathar arrived. Adonijah said, "Come in, for you are a worthy man and surely you bring good news." Jonathan answered Adonijah, "No, for our lord King David has made Solomon king; the king has sent with him the priest Zadok, the prophet Nathan, and Benaiah son of Jehoiada, and the Cherethites and the Pelethites; and they had him ride on the king's mule; the priest Zadok and the prophet Nathan have anointed him king at Gihon; and they have gone up from there rejoicing, so that the city is in an uproar. This is the noise that you heard. Solomon now sits on the royal throne. Moreover the king's servants came to congratulate our lord King David, saying, 'May God make the name of Solomon more famous than yours, and make his throne greater than your throne.' The king bowed in worship on the bed and went on to pray thus, 'Blessed be the Lord, the God of Israel, who today has granted one of my offspring to sit on my throne and permitted me to witness it.'"
Semi-continuous Hebrew Scripture: Genesis 29:9-14
While he was still speaking with them, Rachel came with her father's sheep; for she kept them. Now when Jacob saw Rachel, the daughter of his mother's brother Laban, and the sheep of his mother's brother Laban, Jacob went up and rolled the stone from the well's mouth, and watered the flock of his mother's brother Laban. Then Jacob kissed Rachel, and wept aloud. And Jacob told Rachel that he was her father's kinsman, and that he was Rebekah's son; and she ran and told her father. When Laban heard the news about his sister's son Jacob, he ran to meet him; he embraced him and kissed him, and brought him to his house. Jacob told Laban all these things, and Laban said to him, "Surely you are my bone and my flesh!" And he stayed with him a month.
Complementary Psalm 119:129-136
Your decrees are wonderful;
 therefore my soul keeps them.
The unfolding of your words gives light;
 it imparts understanding to the simple.
With open mouth I pant,
 because I long for your commandments.
Turn to me and be gracious to me,
 as is your custom toward those who love your name.
Keep my steps steady according to your promise,
 and never let iniquity have dominion over me.
Redeem me from human oppression,
 that I may keep your precepts.
Make your face shine upon your servant,
 and teach me your statutes.
My eyes shed streams of tears
 because your law is not kept.
Semi-continuous Psalm 105:1-11,45b
O give thanks to the Lord,
 call on his name,
 make known his deeds among the peoples.
Sing to him, sing praises to him;
 tell of all his wonderful works.
Glory in his holy name;
 let the hearts of those who seek the Lord rejoice.
Seek the Lord and his strength;
 seek his presence continually.
Remember the wonderful works he has done,
 his miracles, and the judgments he uttered,
 O offspring of his servant Abraham,
 children of Jacob, his chosen ones.
He is the Lord our God;
 his judgments are in all the earth.
He is mindful of his covenant forever,
 of the word that he commanded,
 for a thousand generations,
 the covenant that he made with Abraham,
 his sworn promise to Isaac,
 which he confirmed to Jacob as a statute,
 to Israel as an everlasting covenant, saying,
 "To you I will give the land of Canaan
  as your portion for an inheritance."
Praise the Lord!
New Testament Epistle Lesson: Acts 7:44-53
[Stephen is speaking before the Sanhedrin.]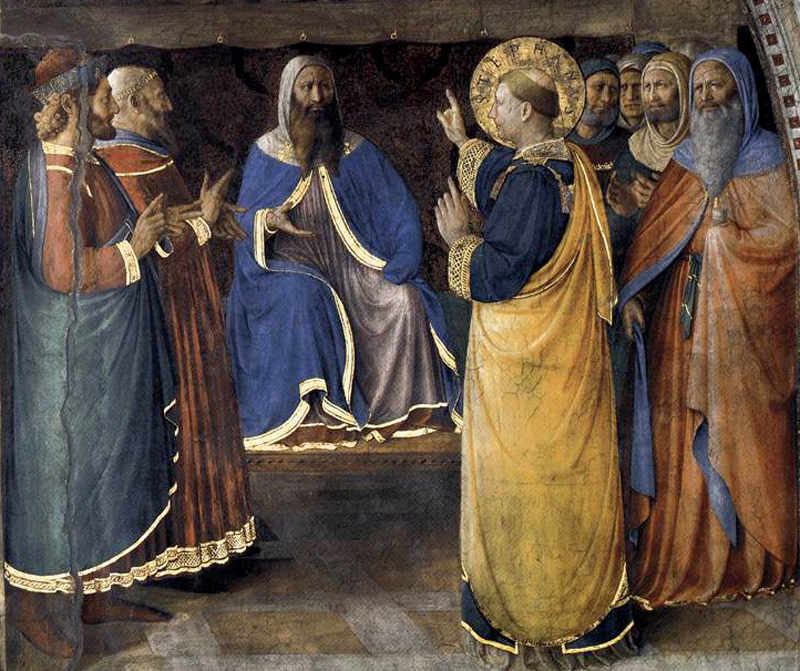 "Our ancestors had the tent of testimony in the wilderness, as God directed when he spoke to Moses, ordering him to make it according to the pattern he had seen. Our ancestors in turn brought it in with Joshua when they dispossessed the nations that God drove out before our ancestors. And it was there until the time of David, who found favor with God and asked that he might find a dwelling place for the house of Jacob. But it was Solomon who built a house for him. Yet the Most High does not dwell in houses made with human hands; as the prophet says,
'Heaven is my throne, and the earth is my footstool. What kind of house will you build for me, says the Lord, or what is the place of my rest? Did not my hand make all these things?'¹
"You stiff-necked people, uncircumcised in heart and ears, you are forever opposing the Holy Spirit, just as your ancestors used to do. Which of the prophets did your ancestors not persecute? They killed those who foretold the coming of the Righteous One, and now you have become his betrayers and murderers. You are the ones that received the law as ordained by angels, and yet you have not kept it."
¹Isaiah 66:1-2
Year A Ordinary 17, RCL Proper 12, Catholic Proper 17 Friday
Bible verses from The New Revised Standard Version, copyright 1989 by the Division of Christian Education of the National Council of Churches of Christ in the United States of America. Used by permission. All right reserved.

Selections from Revised Common Lectionary Daily Readings, copyright 1985 by the Consultation on Common Texts.

Image Credit: Stephen before the Sanhedrin by Fra Angelico, detail from Lunette of the north wall, Cappella Niccolina, Palazzi Pontifici, Vatican, via lectionaryart.org. This is a public domain image.