Revised Common Lectionary Proper 8
Roman Catholic Proper 13
Complementary Hebrew Scripture: 1 Kings 21:1-16
Later the following events took place: Naboth the Jezreelite had a vineyard in Jezreel, beside the palace of King Ahab of Samaria. And Ahab said to Naboth, "Give me your vineyard, so that I may have it for a vegetable garden, because it is near my house; I will give you a better vineyard for it; or, if it seems good to you, I will give you its value in money." But Naboth said to Ahab, "The LORD forbid that I should give you my ancestral inheritance." Ahab went home resentful and sullen because of what Naboth the Jezreelite had said to him; for he had said, "I will not give you my ancestral inheritance." He lay down on his bed, turned away his face, and would not eat. His wife Jezebel came to him and said, "Why are you so depressed that you will not eat?" He said to her, "Because I spoke to Naboth the Jezreelite and said to him, 'Give me your vineyard for money; or else, if you prefer, I will give you another vineyard for it'; but he answered, 'I will not give you my vineyard.'" His wife Jezebel said to him, "Do you now govern Israel? Get up, eat some food, and be cheerful; I will give you the vineyard of Naboth the Jezreelite." So she wrote letters in Ahab's name and sealed them with his seal; she sent the letters to the elders and the nobles who lived with Naboth in his city. She wrote in the letters, "Proclaim a fast, and seat Naboth at the head of the assembly; seat two scoundrels opposite him, and have them bring a charge against him, saying, 'You have cursed God and the king.' Then take him out, and stone him to death." The men of his city, the elders and the nobles who lived in his city, did as Jezebel had sent word to them. Just as it was written in the letters that she had sent to them, they proclaimed a fast and seated Naboth at the head of the assembly. The two scoundrels came in and sat opposite him; and the scoundrels brought a charge against Naboth, in the presence of the people, saying, "Naboth cursed God and the king." So they took him outside the city, and stoned him to death. Then they sent to Jezebel, saying, "Naboth has been stoned; he is dead." As soon as Jezebel heard that Naboth had been stoned and was dead, Jezebel said to Ahab, "Go, take possession of the vineyard of Naboth the Jezreelite, which he refused to give you for money; for Naboth is not alive, but dead." As soon as Ahab heard that Naboth was dead, Ahab set out to go down to the vineyard of Naboth the Jezreelite, to take possession of it.
Semi-continuous Hebrew Scripture: Genesis 22:15-18
The angel of the LORD called to Abraham a second time from heaven, and said, "By myself I have sworn, says the LORD: Because you have done this, and have not withheld your son, your only son, I will indeed bless you, and I will make your offspring as numerous as the stars of heaven and as the sand that is on the seashore. And your offspring shall possess the gate of their enemies, and by your offspring shall all the nations of the earth gain blessing for themselves, because you have obeyed my voice."
Complementary Psalm 119:161-168
Princes persecute me without cause,
 but my heart stands in awe of your words.
I rejoice at your word like one who finds great spoil.
I hate and abhor falsehood,
 but I love your law.
Seven times a day I praise you
 for your righteous ordinances.
Great peace have those who love your law;
 nothing can make them stumble.
I hope for your salvation, O Lord,
 and I fulfill your commandments.
My soul keeps your decrees;
 I love them exceedingly.
I keep your precepts and decrees,
 for all my ways are before you.
Semi-continuous Psalm 47
Clap your hands, all you peoples;
 shout to God with loud songs of joy.
For the Lord, the Most High, is awesome,
 a great king over all the earth.
He subdued peoples under us,
 and nations under our feet.
He chose our heritage for us,
 the pride of Jacob whom he loves. Selah
God has gone up with a shout,
 the Lord with the sound of a trumpet.
Sing praises to God, sing praises;
 sing praises to our King, sing praises.
For God is the king of all the earth;
 sing praises with a psalm.
God is king over the nations;
 God sits on his holy throne.
The princes of the peoples gather
 as the people of the God of Abraham.
For the shields of the earth belong to God;
 he is highly exalted.
New Testament Epistle Lesson: 1 Thessalonians 4:9-12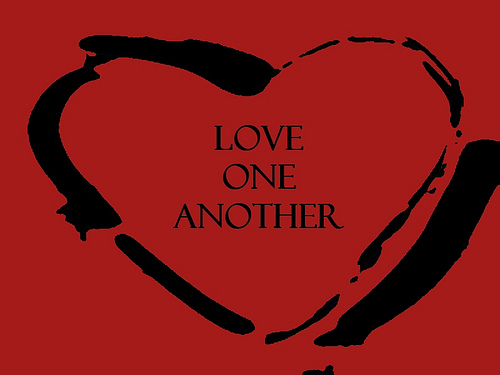 Now concerning love of the brothers and sisters, you do not need to have anyone write to you, for you yourselves have been taught by God to love one another; and indeed you do love all the brothers and sisters throughout Macedonia. But we urge you, beloved, to do so more and more, to aspire to live quietly, to mind your own affairs, and to work with your hands, as we directed you, so that you may behave properly toward outsiders and be dependent on no one.
Year A Ordinary 13, RCL Proper 8, Catholic Proper 13 Monday
Bible verses from The New Revised Standard Version, copyright 1989 by the Division of Christian Education of the National Council of Churches of Christ in the United States of America. Used by permission. All right reserved.
Selections from Revised Common Lectionary Daily Readings, copyright 1985 by the Consultation on Common Texts.
Image Credit: Love One Another by Will Humes, via Flickr, licensed under the Creative Commons Non Commercial Share Alike license.