Monday: Reflection on the Seventeenth Sunday in Ordinary Time
Revised Common Lectionary Proper 12
Roman Catholic Proper 17
Complementary Hebrew Scripture: 1 Kings 3:16-28
Later, two women who were prostitutes came to the king and stood before him. The one woman said, "Please, my lord, this woman and I live in the same house; and I gave birth while she was in the house. Then on the third day after I gave birth, this woman also gave birth. We were together; there was no one else with us in the house, only the two of us were in the house. Then this woman's son died in the night, because she lay on him. She got up in the middle of the night and took my son from beside me while your servant slept. She laid him at her breast, and laid her dead son at my breast. When I rose in the morning to nurse my son, I saw that he was dead; but when I looked at him closely in the morning, clearly it was not the son I had borne." But the other woman said, "No, the living son is mine, and the dead son is yours." The first said, "No, the dead son is yours, and the living son is mine." So they argued before the king.
Then the king said, "The one says, 'This is my son that is alive, and your son is dead'; while the other says, 'Not so! Your son is dead, and my son is the living one.'" So the king said, "Bring me a sword," and they brought a sword before the king. The king said, "Divide the living boy in two; then give half to the one, and half to the other." But the woman whose son was alive said to the king—because compassion for her son burned within her- "Please, my lord, give her the living boy; certainly do not kill him!" The other said, "It shall be neither mine nor yours; divide it." Then the king responded: "Give the first woman the living boy; do not kill him. She is his mother." All Israel heard of the judgment that the king had rendered; and they stood in awe of the king, because they perceived that the wisdom of God was in him, to execute justice.
Semi-continuous Hebrew Scripture: Genesis 30:25-36
When Rachel had borne Joseph, Jacob said to Laban, "Send me away, that I may go to my own home and country. Give me my wives and my children for whom I have served you, and let me go; for you know very well the service I have given you." But Laban said to him, "If you will allow me to say so, I have learned by divination that the Lord has blessed me because of you; name your wages, and I will give it." Jacob said to him, "You yourself know how I have served you, and how your cattle have fared with me. For you had little before I came, and it has increased abundantly; and the Lord has blessed you wherever I turned. But now when shall I provide for my own household also?" He said, "What shall I give you?" Jacob said, "You shall not give me anything; if you will do this for me, I will again feed your flock and keep it: let me pass through all your flock today, removing from it every speckled and spotted sheep and every black lamb, and the spotted and speckled among the goats; and such shall be my wages. So my honesty will answer for me later, when you come to look into my wages with you. Every one that is not speckled and spotted among the goats and black among the lambs, if found with me, shall be counted stolen." Laban said, "Good! Let it be as you have said." But that day Laban removed the male goats that were striped and spotted, and all the female goats that were speckled and spotted, every one that had white on it, and every lamb that was black, and put them in charge of his sons; and he set a distance of three days' journey between himself and Jacob, while Jacob was pasturing the rest of Laban's flock.
Complementary Psalm 119:121-129
I have done what is just and right;
 do not leave me to my oppressors.
Guarantee your servant's well-being;
 do not let the godless oppress me.
My eyes fail from watching for your salvation,
 and for the fulfillment of your righteous promise.
Deal with your servant
 according to your steadfast love,
 and teach me your statutes.
I am your servant;
 give me understanding,
 so that I may know your decrees.
It is time for the Lord to act,
 for your law has been broken.
Truly I love your commandments more than gold,
 more than fine gold.
Truly I direct my steps by all your precepts;
 I hate every false way.
Your decrees are wonderful;
 therefore my soul keeps them.
Semi-continuous Psalm 65:8-13
Those who live at earth's farthest bounds
 are awed by your signs;
 you make the gateways of the morning
 and the evening shout for joy.
You visit the earth and water it, you greatly enrich it;
 the river of God is full of water;
 you provide the people with grain,
 for so you have prepared it.
You water its furrows abundantly,
 settling its ridges,
 softening it with showers,
 and blessing its growth.
You crown the year with your bounty;
 your wagon tracks overflow with richness.
The pastures of the wilderness overflow,
 the hills gird themselves with joy,
 the meadows clothe themselves with flocks,
 the valleys deck themselves with grain,
 they shout and sing together for joy.
New Testament Epistle Lesson: James 3:13-18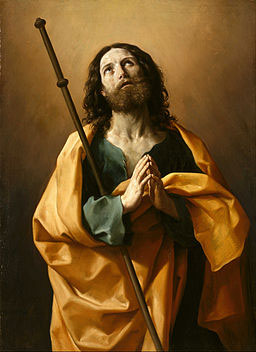 Who is wise and understanding among you? Show by your good life that your works are done with gentleness born of wisdom. But if you have bitter envy and selfish ambition in your hearts, do not be boastful and false to the truth. Such wisdom does not come down from above, but is earthly, unspiritual, devilish. For where there is envy and selfish ambition, there will also be disorder and wickedness of every kind. But the wisdom from above is first pure, then peaceable, gentle, willing to yield, full of mercy and good fruits, without a trace of partiality or hypocrisy. And a harvest of righteousness is sown in peace for those who make peace.
Year A Ordinary 17, RCL Proper 12, Catholic Proper 17 Monday
Bible verses from The New Revised Standard Version, copyright 1989 by the Division of Christian Education of the National Council of Churches of Christ in the United States of America. Used by permission. All right reserved.

Selections from Revised Common Lectionary Daily Readings, copyright 1985 by Consultation on Common Texts.

Image Credit: Saint James the Greater by Guido Reni via Wikimedia Commons. This is a public domain image.