Saturday: Preparation for the Fourteenth Sunday in Ordinary Time
Revised Common Lectionary Proper 9
Roman Catholic Proper 14
Complementary Hebrew Scripture: Zechariah 4:1-7
The angel who talked with me came again, and wakened me, as one is wakened from sleep. He said to me, "What do you see?" And I said, "I see a lampstand all of gold, with a bowl on the top of it; there are seven lamps on it, with seven lips on each of the lamps that are on the top of it. And by it there are two olive trees, one on the right of the bowl and the other on its left." I said to the angel who talked with me, "What are these, my lord?" Then the angel who talked with me answered me, "Do you not know what these are?" I said, "No, my lord." He said to me, "This is the word of the LORD to Zerubbabel:¹ Not by might, nor by power, but by my spirit, says the LORD of hosts. What are you, O great mountain? Before Zerubbabel you shall become a plain; and he shall bring out the top stone amid shouts of 'Grace, grace to it!'"
¹Zerubbabel was one of the leaders of the exiles who returned from Babylon after King Cyrus of Persia captured Babylon. Cyrus allowed those who wished to return to Judea and to rebuild the temple. Zechariah provided strong impetus to the rebuilding effort.
Semi-continuous Hebrew Scripture: Genesis 27:18-29
So he [Jacob] went in to his father, and said, "My father"; and he said, "Here I am; who are you, my son?" Jacob said to his father, "I am Esau your firstborn. I have done as you told me; now sit up and eat of my game, so that you may bless me." But Isaac said to his son, "How is it that you have found it so quickly, my son?" He answered, "Because the LORD your God granted me success." Then Isaac said to Jacob, "Come near, that I may feel you, my son, to know whether you are really my son Esau or not." So Jacob went up to his father Isaac, who felt him and said, "The voice is Jacob's voice, but the hands are the hands of Esau." He did not recognize him, because his hands were hairy like his brother Esau's hands; so he blessed him. He said, "Are you really my son Esau?" He answered, "I am." Then he said, "Bring it to me, that I may eat of my son's game and bless you." So he brought it to him, and he ate; and he brought him wine, and he drank. Then his father Isaac said to him, "Come near and kiss me, my son." So he came near and kissed him; and he smelled the smell of his garments, and blessed him, and said,
"Ah, the smell of my son
 is like the smell of a field
 that the LORD has blessed.
May God give you of the dew of heaven,
 and of the fatness of the earth,
 and plenty of grain and wine.
Let peoples serve you,
 and nations bow down to you.
Be lord over your brothers,
 and may your mother's sons
 bow down to you.
Cursed be everyone who curses you,
 and blessed be everyone who blesses you!"
Complementary Psalm 145:8-14
The Lord is gracious and merciful,
 slow to anger and abounding in steadfast love.
The Lord is good to all,
 and his compassion is over all that he has made.
All your works shall give thanks to you, O Lord,
 and all your faithful shall bless you.
They shall speak of the glory of your kingdom,
 and tell of your power,
 to make known to all people your mighty deeds,
 and the glorious splendor of your kingdom.
Your kingdom is an everlasting kingdom,
 and your dominion endures
 throughout all generations.
The Lord is faithful in all his words,
 and gracious in all his deeds.
The Lord upholds all who are falling,
 and raises up all who are bowed down.
Semi-continuous Psalm 45:10-17
Hear, O daughter, consider and incline your ear;
 forget your people and your father's house,
 and the king will desire your beauty.
Since he is your Lord, bow to him;
 the people of Tyre will seek your favor with gifts,
 the richest of the people with all kinds of wealth.
The princess is decked in her chamber with gold-woven robes;
 in many-colored robes she is led to the king;
 behind her the virgins, her companions, follow.
With joy and gladness they are led along
 as they enter the palace of the king.
In the place of ancestors you, O king, shall have sons;
 you will make them princes in all the earth.
I will cause your name to be celebrated in all generations;
 therefore the peoples will praise you
 forever and ever.
New Testament Gospel Lesson: Luke 10:21-24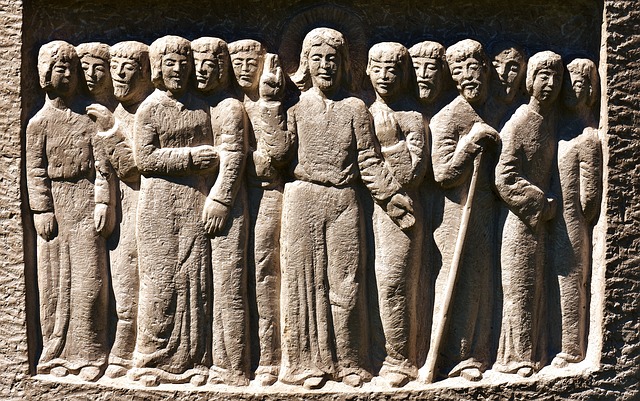 At that same hour Jesus rejoiced in the Holy Spirit and said, "I thank you, Father, Lord of heaven and earth, because you have hidden these things from the wise and the intelligent and have revealed them to infants; yes, Father, for such was your gracious will. All things have been handed over to me by my Father; and no one knows who the Son is except the Father, or who the Father is except the Son and anyone to whom the Son chooses to reveal him."
Then turning to the disciples, Jesus said to them privately, "Blessed are the eyes that see what you see! For I tell you that many prophets and kings desired to see what you see, but did not see it, and to hear what you hear, but did not hear it."
Year A Ordinary 14, RCL Proper 9, Catholic Proper 14 Saturday
Bible verses from The New Revised Standard Version, copyright 1989 by the Division of Christian Education of the National Council of Churches of Christ in the United States of America. Used by permission. All right reserved.

Selections from Revised Common Lectionary Daily Readings, copyright 1985 by the Consultation on Common Texts.

Image Credit: Twelve Apostles image by Alexas Fotos via Pixabay. This is a public domain image.