Thursday: Preparation for the Nineteenth Sunday in Ordinary Time
Revised Common Lectionary Proper 14
Roman Catholic Proper 19
Complementary Hebrew Scripture: 1 Kings 18:1-6
After many days the word of the Lord came to Elijah, in the third year of the drought, saying, "Go, present yourself to Ahab; I will send rain on the earth." So Elijah went to present himself to Ahab. The famine was severe in Samaria. Ahab summoned Obadiah, who was in charge of the palace. (Now Obadiah revered the Lord greatly; when Jezebel was killing off the prophets of the Lord, Obadiah took a hundred prophets, hid them fifty to a cave, and provided them with bread and water.) Then Ahab said to Obadiah, "Go through the land to all the springs of water and to all the wadis; perhaps we may find grass to keep the horses and mules alive, and not lose some of the animals." So they divided the land between them to pass through it; Ahab went in one direction by himself, and Obadiah went in another direction by himself.
Semi-continuous Hebrew Scripture: Genesis 35:22b-29
Now the sons of Jacob were twelve.
The sons of Leah: Reuben (Jacob's firstborn), Simeon, Levi, Judah, Issachar, and Zebulun.
The sons of Rachel: Joseph and Benjamin.
The sons of Bilhah, Rachel's maid: Dan and Naphtali.
The sons of Zilpah, Leah's maid: Gad and Asher.
These were the sons of Jacob who were born to him in Paddan-aram. Jacob came to his father Isaac at Mamre, or Kiriath-arba (that is, Hebron), where Abraham and Isaac had resided as aliens. Now the days of Isaac were one hundred eighty years. And Isaac breathed his last; he died and was gathered to his people, old and full of days; and his sons Esau and Jacob buried him
Complementary Psalm 85:8-13
Let me hear what God the Lord will speak,
 for he will speak peace to his people,
 to his faithful,
those who turn to him in their hearts.
Surely his salvation is at hand for those who fear him,
 that his glory may dwell in our land.
Steadfast love and faithfulness will meet;
 righteousness and peace will kiss each other.
Faithfulness will spring up from the ground,
 and righteousness will look down from the sky.
The Lord will give what is good,
 and our land will yield its increase.
Righteousness will go before him,
 and will make a path for his steps.
Semi-continuous Psalm 105:1-6, 16-22, 45b
O give thanks to the Lord,
 call on his name,
 make known his deeds among the peoples.
Sing to him, sing praises to him;
 tell of all his wonderful works.
Glory in his holy name;
 let the hearts of those who seek the Lord rejoice.
Seek the Lord and his strength;
 seek his presence continually.
Remember the wonderful works he has done,
 his miracles, and the judgments he uttered,
 O offspring of his servant Abraham,
 children of Jacob, his chosen ones.
When he summoned famine against the land,
 and broke every staff of bread,
 he had sent a man ahead of them,
Joseph, who was sold as a slave.
His feet were hurt with fetters,
 his neck was put in a collar of iron;
 until what he had said came to pass,
 the word of the Lord kept testing him.
The king sent and released him;
 the ruler of the peoples set him free.
He made him Lord of his house,
 and ruler of all his possessions,
 to instruct his officials at his pleasure,
 and to teach his elders wisdom.
Praise the Lord!
New Testament Epistle Lesson: Acts 17:10-15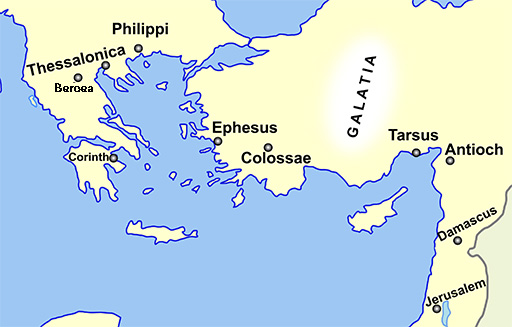 That very night the believers sent Paul and Silas off to Beroea; and when they arrived, they went to the Jewish synagogue. These Jews were more receptive than those in Thessalonica, for they welcomed the message very eagerly and examined the scriptures every day to see whether these things were so. Many of them therefore believed, including not a few Greek women and men of high standing. But when the Jews of Thessalonica learned that the word of God had been proclaimed by Paul in Beroea as well, they came there too, to stir up and incite the crowds. Then the believers immediately sent Paul away to the coast, but Silas and Timothy remained behind. Those who conducted Paul brought him as far as Athens; and after receiving instructions to have Silas and Timothy join him as soon as possible, they left him.
Year A Ordinary 19, RCL Proper 14, Catholic Proper 19 Thursday
Bible verses from The New Revised Standard Version, copyright 1989 by the Division of Christian Education of the National Council of Churches of Christ in the United States of America. Used by permission. All right reserved.

Selections from Revised Common Lectionary Daily Readings, copyright 1985 by the Consultation on Common Texts.

Image Credit: Broad Overview of Geography Relevant to Paul of Tarsus by former English Wikipedia user Alecmconroy, via Wikimedia Commons. The image was cropped and the location of Beroea added by Michael Gilbertson. The image is licensed under the Creative Commons 3.0 Share Alike license.