Saturday: Preparation for the Nineteenth Sunday in Ordinary Time
Revised Common Lectionary Proper 14
Roman Catholic Proper 19
Until Advent we have two series of readings, complementary and semi-continuous. Most denominations allow pastors to choose from either series. More information about the two series is here: Which Series?
Complementary Hebrew Scripture: 1 Kings 18:41-46
Elijah said to Ahab, "Go up, eat and drink; for there is a sound of rushing rain." So Ahab went up to eat and to drink. Elijah went up to the top of Carmel; there he bowed himself down upon the earth and put his face between his knees. He said to his servant, "Go up now, look toward the sea." He went up and looked, and said, "There is nothing." Then he said, "Go again seven times." At the seventh time he said, "Look, a little cloud no bigger than a person's hand is rising out of the sea." Then he said, "Go say to Ahab, 'Harness your chariot and go down before the rain stops you.'" In a little while the heavens grew black with clouds and wind; there was a heavy rain. Ahab rode off and went to Jezreel. But the hand of the Lord was on Elijah; he girded up his loins and ran in front of Ahab to the entrance of Jezreel.
Semi-continuous Hebrew Scripture: Genesis 37:5-11
Once Joseph had a dream, and when he told it to his brothers, they hated him even more. He said to them, "Listen to this dream that I dreamed. There we were, binding sheaves in the field. Suddenly my sheaf rose and stood upright; then your sheaves gathered around it, and bowed down to my sheaf." His brothers said to him, "Are you indeed to reign over us? Are you indeed to have dominion over us?" So they hated him even more because of his dreams and his words. He had another dream, and told it to his brothers, saying, "Look, I have had another dream: the sun, the moon, and eleven stars were bowing down to me." But when he told it to his father and to his brothers, his father rebuked him, and said to him, "What kind of dream is this that you have had? Shall we indeed come, I and your mother and your brothers, and bow to the ground before you?" So his brothers were jealous of him, but his father kept the matter in mind.
Complementary Psalm 85:8-13
Let me hear what God the Lord will speak,
 for he will speak peace to his people,
 to his faithful,
 to those who turn to him in their hearts.
Surely his salvation is at hand for those who fear him,
 that his glory may dwell in our land.
Steadfast love and faithfulness will meet;
 righteousness and peace will kiss each other.
Faithfulness will spring up from the ground,
 and righteousness will look down from the sky.
The Lord will give what is good,
 and our land will yield its increase.
Righteousness will go before him,
 and will make a path for his steps.
Semi-continuous Psalm 105:1-6, 16-22, 45b
O give thanks to the Lord,
 call on his name,
 make known his deeds among the peoples.
Sing to him, sing praises to him;
 tell of all his wonderful works.
Glory in his holy name;
 let the hearts of those who seek the Lord rejoice.
Seek the Lord and his strength;
 seek his presence continually.
Remember the wonderful works he has done,
 his miracles, and the judgments he uttered,
 O offspring of his servant Abraham,
 children of Jacob, his chosen ones.
When he summoned famine against the land,
 and broke every staff of bread,
 he had sent a man ahead of them,
 Joseph, who was sold as a slave.
His feet were hurt with fetters,
 his neck was put in a collar of iron;
 until what he had said came to pass,
 the word of the Lord kept testing him.
The king sent and released him;
 the ruler of the peoples set him free.
He made him Lord of his house,
 and ruler of all his possessions,
 to instruct his officials at his pleasure,
 and to teach his elders wisdom.
Praise the Lord!
New Testament Gospel Lesson: Matthew 16:1-4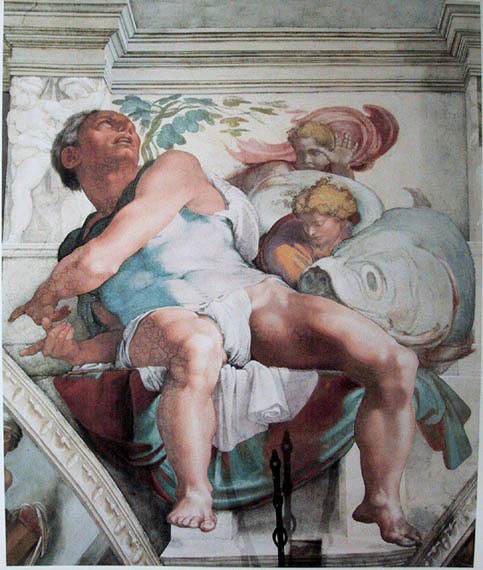 The Pharisees and Sadducees came, and to test Jesus they asked him to show them a sign from heaven. He answered them, "When it is evening, you say, 'It will be fair weather, for the sky is red.' And in the morning, 'It will be stormy today, for the sky is red and threatening.' You know how to interpret the appearance of the sky, but you cannot interpret the signs of the times. An evil and adulterous generation asks for a sign, but no sign will be given to it except the sign of Jonah." Then he left them and went away.
Year A Ordinary 19, RCL Proper 14, Catholic Proper 19 Saturday
Bible verses from The New Revised Standard Version, copyright 1989 by the Division of Christian Education of the National Council of Churches of Christ in the United States of America. Used by permission. All right reserved.

Selections from Revised Common Lectionary Daily Readings, copyright 1985 by the Consultation on Common Texts.

Image Credit: The Prophet Jonah by Michelangelo, in the Sistine Chapel, via Wikipedia. This is a public domain image.