Tuesday: Reflection on the Twenty-first Sunday in Ordinary Time
Revised Common Lectionary Proper 16
Roman Catholic Proper 21
Complementary Hebrew Scripture: Deuteronomy 32:18-20, 28-29
You were unmindful of the Rock that bore you; you forgot the God who gave you birth. The Lord saw it, and was jealous he spurned his sons and daughters. He said: I will hide my face from them, I will see what their end will be; for they are a perverse generation, children in whom there is no faithfulness.
They are a nation void of sense; there is no understanding in them. If they were wise, they would understand this; they would discern what the end would be. How could one have routed a thousand, and two put a myriad to flight, unless their Rock had sold them, the Lord had given them up? Indeed their rock is not like our Rock; our enemies are fools. Their vine comes from the vinestock of Sodom, from the vineyards of Gomorrah; their grapes are grapes of poison, their clusters are bitter; their wine is the poison of serpents, the cruel venom of asps. Is not this laid up in store with me, sealed up in my treasuries? Vengeance is mine, and recompense, for the time when their foot shall slip; because the day of their calamity is at hand, their doom comes swiftly. Indeed the Lord will vindicate his people, have compassion on his servants, when he sees that their power is gone, neither bond nor free remaining. Then he will say: Where are their gods, the rock in which they took refuge, who ate the fat of their sacrifices, and drank the wine of their libations? Let them rise up and help you, let them be your protection! See now that I, even I, am he; there is no god besides me. I kill and I make alive; I wound and I heal; and no one can deliver from my hand.
Semi-continuous Hebrew Scripture: Exodus 2:11-15a
One day, after Moses had grown up, he went out to his people and saw their forced labor. He saw an Egyptian beating a Hebrew, one of his kinsfolk. He looked this way and that, and seeing no one he killed the Egyptian and hid him in the sand. When he went out the next day, he saw two Hebrews fighting; and he said to the one who was in the wrong, "Why do you strike your fellow Hebrew?" He answered, "Who made you a ruler and judge over us? Do you mean to kill me as you killed the Egyptian?" Then Moses was afraid and thought, "Surely the thing is known." When Pharaoh heard of it, he sought to kill Moses.
Complementary Psalm 18:1-3, 20-32
I love you, O Lord, my strength.
The Lord is my rock, my fortress, and my deliverer,
 my God, my rock in whom I take refuge,
 my shield, and the horn of my salvation,
 my stronghold.
I call upon the Lord, who is worthy to be praised,
 so I shall be saved from my enemies.
The Lord rewarded me according to my righteousness;
 according to the cleanness of my hands
 he recompensed me.
For I have kept the ways of the Lord,
 and have not wickedly departed from my God.
For all his ordinances were before me,
 and his statutes I did not put away from me.
I was blameless before him, and I kept myself from guilt.
Therefore the Lord has recompensed me according to my righteousness,
 according to the cleanness of my hands in his sight.
With the loyal you show yourself loyal;
 with the blameless you show yourself blameless;
 with the pure you show yourself pure;
 and with the crooked you show yourself perverse.
For you deliver a humble people,
 but the haughty eyes you bring down.
It is you who light my lamp;
 the Lord, my God, lights up my darkness.
By you I can crush a troop, and by my God I can leap over a wall.
This God—his way is perfect;
 the promise of the Lord proves true;
 he is a shield for all who take refuge in him.
For who is God except the Lord?
And who is a rock besides our God?—
the God who girded me with strength, and made my way safe.
Semi-continuous Psalm 8
O Lord, our Sovereign,
  how majestic is your name in all the earth!
You have set your glory above the heavens.
Out of the mouths of babes and infants
  you have founded a bulwark
  because of your foes,
  to silence the enemy and the avenger.
When I look at your heavens,
  the work of your fingers,
  the moon and the stars that you have established;
  what are human beings
  that you are mindful of them,
  mortals that you care for them?
Yet you have made them a little lower than God,
  and crowned them with glory and honor.
You have given them dominion over the works of your hands;
  you have put all things under their feet,
  all sheep and oxen, and also the beasts of the field,
  the birds of the air, and the fish of the sea,
  whatever passes along the paths of the seas.
O Lord, our Sovereign,
  how majestic is your name in all the earth!
New Testament Epistle Lesson: Romans 11:33-36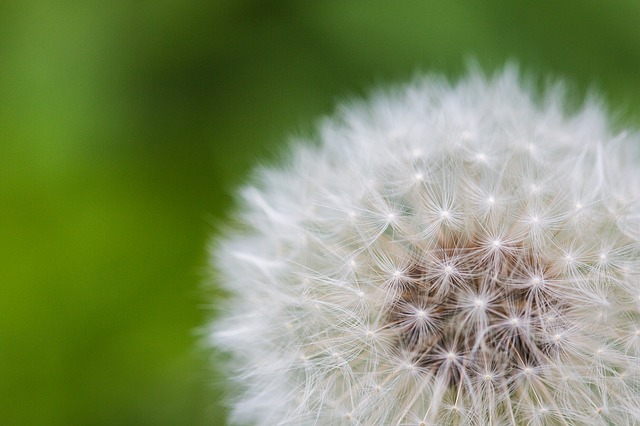 O the depth of the riches and wisdom and knowledge of God! How unsearchable are his judgments and how inscrutable his ways!
"For who has known the mind of the Lord? Or who has been his counselor?"¹ "Or who has given a gift to him, to receive a gift in return?"²
For from him and through him and to him are all things. To him be the glory forever. Amen.
¹Isaiah 40:13
²Job 40:11
Year A Ordinary 21, RCL Proper 16, Catholic Proper 21 Tuesday
Bible verses from The New Revised Standard Version, copyright 1989 by the Division of Christian Education of the National Council of Churches of Christ in the United States of America. Used by permission. All right reserved.

Selections from Revised Common Lectionary Daily Readings, copyright 1985 by the Consultation on Common Texts.

Image Credit: Dandelion by picjumbo_com via Pixabay. This is a public domain image.