Thursday: Preparation for the Twenty-fifth Sunday in Ordinary Time
Revised Common Lectionary Proper 20
Roman Catholic Proper 25
Complementary Hebrew Scripture: Nahum 1:1, 14-2:2
An oracle concerning Nineveh. The book of the vision of Nahum of Elkosh.
The Lord has commanded concerning you:
"Your name shall be perpetuated no longer;
 from the house of your gods
 I will cut off the carved image and the cast image.
I will make your grave, for you are worthless."
Look! On the mountains the feet of one
 who brings good tidings,
 who proclaims peace!
Celebrate your festivals, O Judah,
 fulfill your vows,
 for never again shall the wicked invade you;
 they are utterly cut off.
A shatterer has come up against you.
Guard the ramparts; watch the road;
 gird your loins; collect all your strength.
For the Lord is restoring the majesty of Jacob,
 as well as the majesty of Israel,
 though ravagers have ravaged them
 and ruined their branches.
Semi-continuous Hebrew Scripture: Exodus 15:22-27
Then Moses ordered Israel to set out from the Red Sea, and they went into the wilderness of Shur. They went three days in the wilderness and found no water. When they came to Marah, they could not drink the water of Marah because it was bitter. That is why it was called Marah. And the people complained against Moses, saying, "What shall we drink?" He cried out to the Lord; and the Lord showed him a piece of wood; he threw it into the water, and the water became sweet. There the Lord made for them a statute and an ordinance and there he put them to the test. He said, "If you will listen carefully to the voice of the Lord your God, and do what is right in his sight, and give heed to his commandments and keep all his statutes, I will not bring upon you any of the diseases that I brought upon the Egyptians; for I am the Lord who heals you." Then they came to Elim, where there were twelve springs of water and seventy palm trees; and they camped there by the water.
Complementary Psalm 145:1-8
I will extol you, my God and King,
 and bless your name forever and ever.
Every day I will bless you,
 and praise your name forever and ever.
Great is the Lord, and greatly to be praised;
 his greatness is unsearchable.
One generation shall laud your works to another,
 and shall declare your mighty acts.
On the glorious splendor of your majesty,
 and on your wondrous works, I will meditate.
The might of your awesome deeds shall be proclaimed,
 and I will declare your greatness.
They shall celebrate the fame of your abundant goodness,
 and shall sing aloud of your righteousness.
The Lord is gracious and merciful,
 slow to anger and abounding in steadfast love.
Semi-continuous Psalm 105:1-6, 37-45
O give thanks to the Lord,
 call on his name,
 make known his deeds among the peoples.
Sing to him, sing praises to him;
 tell of all his wonderful works.
Glory in his holy name;
 let the hearts of those who seek the Lord rejoice.
Seek the Lord and his strength;
 seek his presence continually.
Remember the wonderful works he has done,
 his miracles, and the judgments he uttered,
 O offspring of his servant Abraham,
 children of Jacob, his chosen ones.
Then he brought Israel out with silver and gold,
 and there was no one
 among their tribes who stumbled.
Egypt was glad when they departed,
 for dread of them had fallen upon it.
He spread a cloud for a covering,
 and fire to give light by night.
They asked, and he brought quails,
 and gave them food from heaven in abundance.
He opened the rock, and water gushed out;
 it flowed through the desert like a river.
 For he remembered his holy promise, and Abraham, his servant.
So he brought his people out with joy,
 his chosen ones with singing.
He gave them the lands of the nations,
 and they took possession of
 the wealth of the peoples,
 that they might keep his statutes
 and observe his laws.
Praise the Lord!
New Testament Epistle Lesson: 2 Corinthians 13:1-4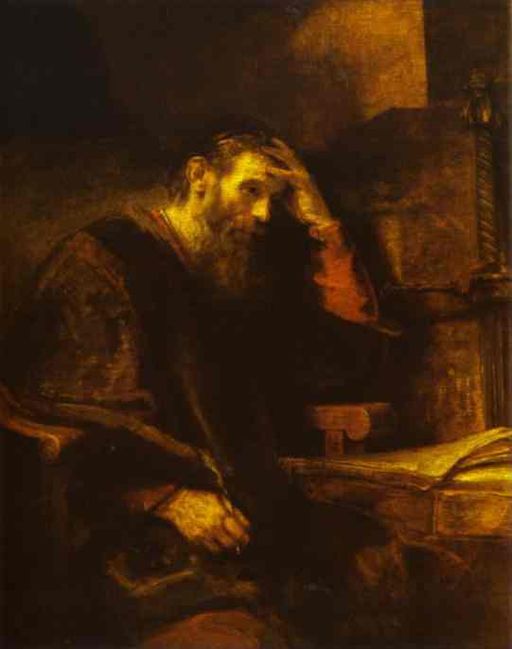 This is the third time I am coming to you. "Any charge must be sustained by the evidence of two or three witnesses."¹
I warned those who sinned previously and all the others, and I warn them now while absent, as I did when present on my second visit, that if I come again, I will not be lenient—since you desire proof that Christ is speaking in me. He is not weak in dealing with you, but is powerful in you. For he was crucified in weakness, but lives by the power of God. For we are weak in him, but in dealing with you we will live with him by the power of God.
¹Deuteronomy 19:15
Year A Ordinary 25, RCL Proper 20, Catholic Proper 25 Thursday
Bible verses from The New Revised Standard Version, copyright 1989 by the Division of Christian Education of the National Council of Churches of Christ in the United States of America. Used by permission. All right reserved.

Selections from Revised Common Lectionary Daily Readings, copyright 1985 by the Consultation on Common Texts.

Image Credit: The Apostle Paul attributed to Rembrandt, via Wikimedia Commons. This is a public domain image.