Wednesday: Reflection on the Twenty-fifth Sunday in Ordinary Time
Revised Common Lectionary Proper 20
Roman Catholic Proper 25
Complementary Hebrew Scripture: Isaiah 41:1-13
Listen to me in silence, O coastlands;
 let the peoples renew their strength;
 let them approach, then let them speak;
 let us together draw near for judgment.
Who has roused a victor from the east,
 summoned him to his service?
He delivers up nations to him,
 and tramples kings under foot;
 he makes them like dust with his sword,
 like driven stubble with his bow.
He pursues them and passes on safely,
 scarcely touching the path with his feet.
Who has performed and done this,
 calling the generations from the beginning?
I, the Lord, am first,
 and will be with the last.
The coastlands have seen and are afraid,
 the ends of the earth tremble;
 they have drawn near and come.
Each one helps the other,
 saying to one another,
 "Take courage!"
The artisan encourages the goldsmith,
 and the one who smooths with the hammer
 encourages the one who strikes the anvil,
 saying of the soldering,
 "It is good";
 and they fasten it with nails so that it cannot be moved.
But you, Israel, my servant, Jacob, whom I have chosen,
 the offspring of Abraham, my friend;
 you whom I took from the ends of the earth,
 and called from its farthest corners, saying to you,
 "You are my servant, I have chosen you
 and not cast you off"
 do not fear, for I am with you,
 do not be afraid, for I am your God;
 I will strengthen you, I will help you,
 I will uphold you with my victorious right hand.
Yes, all who are incensed against you
 shall be ashamed and disgraced;
 those who strive against you
 shall be as nothing and shall perish.
You shall seek those who contend with you,
 but you shall not find them;
 those who war against you shall be as nothing at all.
For I, the Lord your God,
 hold your right hand;
 it is I who say to you,
 "Do not fear, I will help you."
Semi-continuous Hebrew Scripture: Numbers 11:18-23,31-32
And say to the people: Consecrate yourselves for tomorrow, and you shall eat meat; for you have wailed in the hearing of the Lord, saying, 'If only we had meat to eat! Surely it was better for us in Egypt.' Therefore the Lord will give you meat, and you shall eat. You shall eat not only one day, or two days, or five days, or ten days, or twenty days, but for a whole month—until it comes out of your nostrils and becomes loathsome to you—because you have rejected the Lord who is among you, and have wailed before him, saying, 'Why did we ever leave Egypt?'" But Moses said, "The people I am with number six hundred thousand on foot; and you say, 'I will give them meat, that they may eat for a whole month'! Are there enough flocks and herds to slaughter for them? Are there enough fish in the sea to catch for them?" The Lord said to Moses, "Is the Lord's power limited? Now you shall see whether my word will come true for you or not." (Num 11:18-23 NRS)
Then a wind went out from the Lord, and it brought quails from the sea and let them fall beside the camp, about a day's journey on this side and a day's journey on the other side, all around the camp, about two cubits deep on the ground. So the people worked all that day and night and all the next day, gathering the quails; the least anyone gathered was ten homers; and they spread them out for themselves all around the camp.
Complementary Psalm 106:1-12
Praise the Lord! O give thanks to the Lord, for he is good;
 for his steadfast love endures forever.
Who can utter the mighty doings of the Lord,
 or declare all his praise?
Happy are those who observe justice,
 who do righteousness at all times.
Remember me, O Lord, when you show favor to your people;
 help me when you deliver them;
 that I may see the prosperity of your chosen ones,
 that I may rejoice in the gladness of your nation,
 that I may glory in your heritage.
Both we and our ancestors have sinned;
 we have committed iniquity, have done wickedly.
Our ancestors, when they were in Egypt,
 did not consider your wonderful works;
 they did not remember
 the abundance of your steadfast love,
 but rebelled against the Most High at the Red Sea.
Yet he saved them for his name's sake,
 so that he might make known his mighty power.
He rebuked the Red Sea, and it became dry;
 he led them through the deep as through a desert.
So he saved them from the hand of the foe,
 and delivered them from the hand of the enemy.
The waters covered their adversaries;
 not one of them was left.
Then they believed his words;
 they sang his praise.
Semi-continuous Psalm 119:97-104
Oh, how I love your law!
It is my meditation all day long.
Your commandment makes me wiser than my enemies,
 for it is always with me.
I have more understanding than all my teachers,
 for your decrees are my meditation.
I understand more than the aged,
 I hold back my feet from every evil way,
 in order to keep your word.
I do not turn away from your ordinances,
 for you have taught me.
How sweet are your words to my taste,
 sweeter than honey to my mouth!
Through your precepts I get understanding;
 therefore I hate every false way.
New Testament Gospel Lesson: Matthew 18:1-5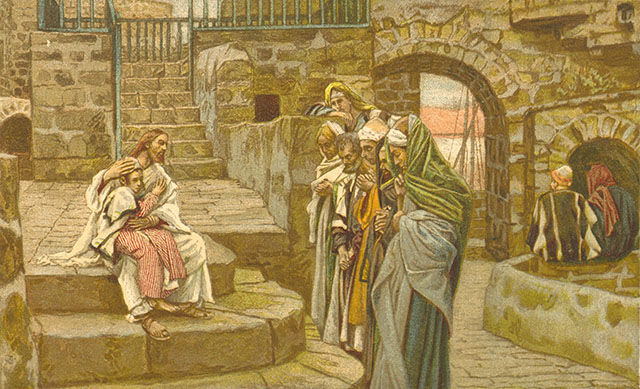 At that time the disciples came to Jesus and asked, "Who is the greatest in the kingdom of heaven?" He called a child, whom he put among them, and said, "Truly I tell you, unless you change and become like children, you will never enter the kingdom of heaven. Whoever becomes humble like this child is the greatest in the kingdom of heaven. Whoever welcomes one such child in my name welcomes me."
Year A Ordinary 25, RCL Proper 20, Catholic Proper 25 Wednesday
Bible verses from The New Revised Standard Version, copyright 1989 by the Division of Christian Education of the National Council of Churches of Christ in the United States of America. Used by permission. All right reserved.

Selections from Revised Common Lectionary Daily Readings, copyright 1985 by the Consultation on Common Texts.

Image Credit: Jesus and the Little Child by James Tissot, via Catholic Resources. This is a public domain image.