Saturday: Preparation for the Second Sunday in Lent
Hebrew Scripture Torah Lesson: Genesis 16:7-15
The angel of the Lord found her by a spring of water in the wilderness, the spring on the way to Shur. And he said, "Hagar, slave-girl of Sarai, where have you come from and where are you going?" She said, "I am running away from my mistress Sarai." The angel of the Lord said to her, "Return to your mistress, and submit to her." The angel of the Lord also said to her, "I will so greatly multiply your offspring that they cannot be counted for multitude." And the angel of the Lord said to her,
"Now you have conceived and shall bear a son;
 you shall call him Ishmael,
 for the Lord has given heed to your affliction.
He shall be a wild ass of a man,
 with his hand against everyone,
 and everyone's hand against him;
and he shall live at odds with all his kin."
So she named the Lord who spoke to her, "You are El-roi"; for she said, "Have I really seen God and remained alive after seeing him?" Therefore the well was called Beer-lahai-roi; it lies between Kadesh and Bered.
Hagar bore Abram a son; and Abram named his son, whom Hagar bore, Ishmael.
Psalm 22:23-31
You who fear the Lord, praise him!
All you offspring of Jacob,
 glorify him; stand in awe of him,
 all you offspring of Israel!
For he did not despise or abhor the affliction of the afflicted;
 he did not hide his face from me,
 but heard when I cried to him.
From you comes my praise in the great congregation;
 my vows I will pay before those who fear him.
The poor shall eat and be satisfied;
 those who seek him shall praise the Lord.
May your hearts live forever!
All the ends of the earth shall remember and turn to the Lord;
 and all the families of the nations shall worship before him.
For dominion belongs to the Lord,
 and he rules over the nations.
To him, indeed, shall all who sleep in the earth bow down;
before him shall bow all who go down to the dust,
 and I shall live for him.
Posterity will serve him;
 future generations will be told about the Lord,
 and proclaim his deliverance to a people yet unborn,
 saying that he has done it.
New Testament Gospel Lesson: Mark 8:27-30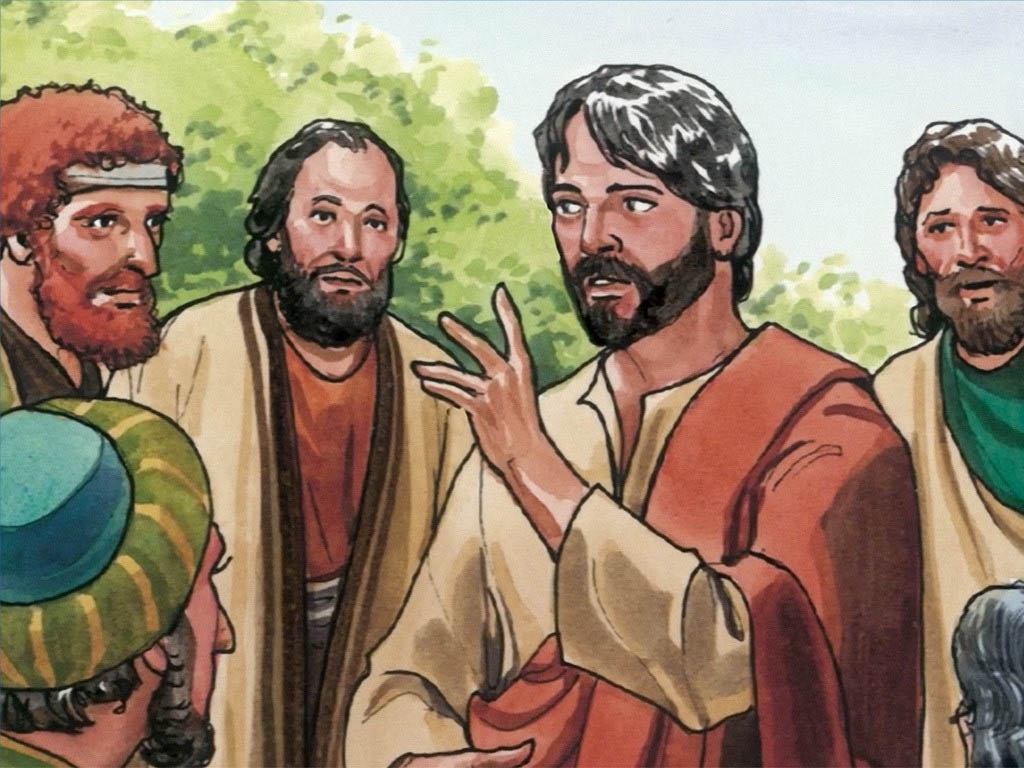 Jesus went on with his disciples to the villages of Caesarea Philippi; and on the way he asked his disciples, "Who do people say that I am?" And they answered him, "John the Baptist; and others, Elijah; and still others, one of the prophets." He asked them, "But who do you say that I am?" Peter answered him, "You are the Messiah." And he sternly ordered them not to tell anyone about him.
Year B Lent 2 Saturday
Bible verses from The New Revised Standard Version, copyright 1989 by the Division of Christian Education of the National Council of Churches of Christ in the United States of America. Used by permission. All right reserved.

Selections from Revised Common Lectionary Daily Readings, copyright 1995 by the Consultation on Common Texts.

Image Credit: Peter's Confession FreeBibleImages.org. This image is the property of Good News Productions International and College Press Publishing who have granted FreeBibleimages permission to distribute it for educational and ministry use only. These images are covered using a Creative Commons Attribution-NonCommercial-NoDerivatives 4.0 International License.