Saturday: Preparation for the Fourth Sunday in Lent
Hebrew Scripture Torah Lesson: Numbers 20:22-29
They set out from Kadesh, and the Israelites, the whole congregation, came to Mount Hor. Then the Lord said to Moses and Aaron at Mount Hor, on the border of the land of Edom, "Let Aaron be gathered to his people. For he shall not enter the land that I have given to the Israelites, because you rebelled against my command at the waters of Meribah. Take Aaron and his son Eleazar, and bring them up Mount Hor; strip Aaron of his vestments, and put them on his son Eleazar. But Aaron shall be gathered to his people, and shall die there." Moses did as the Lord had commanded; they went up Mount Hor in the sight of the whole congregation. Moses stripped Aaron of his vestments, and put them on his son Eleazar; and Aaron died there on the top of the mountain. Moses and Eleazar came down from the mountain. When all the congregation saw that Aaron had died, all the house of Israel mourned for Aaron thirty days.
Psalm 107:1-3, 17-22
O give thanks to the Lord, for he is good;
 for his steadfast love endures forever.
Let the redeemed of the Lord say so,
 those he redeemed from trouble
and gathered in from the lands,
 from the east and from the west,
from the north and from the south.
Some were sick through their sinful ways,
 and because of their iniquities endured affliction;
they loathed any kind of food,
 and they drew near to the gates of death.
Then they cried to the Lord in their trouble,
 and he saved them from their distress;
he sent out his word and healed them,
 and delivered them from destruction.
Let them thank the Lord for his steadfast love,
 for his wonderful works to humankind.
And let them offer thanksgiving sacrifices,
 and tell of his deeds with songs of joy.
New Testament Gospel Lesson: John 3:1-13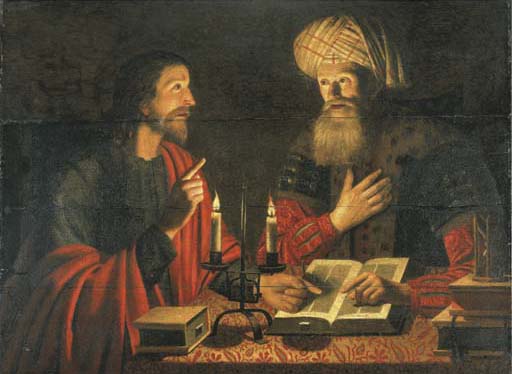 Now there was a Pharisee named Nicodemus, a leader of the Jews. He came to Jesus by night and said to him, "Rabbi, we know that you are a teacher who has come from God; for no one can do these signs that you do apart from the presence of God." Jesus answered him, "Very truly, I tell you, no one can see the kingdom of God without being born from above." Nicodemus said to him, "How can anyone be born after having grown old? Can one enter a second time into the mother's womb and be born?"
Jesus answered, "Very truly, I tell you, no one can enter the kingdom of God without being born of water and Spirit. What is born of the flesh is flesh, and what is born of the Spirit is spirit. Do not be astonished that I said to you, 'You must be born from above.' The wind blows where it chooses, and you hear the sound of it, but you do not know where it comes from or where it goes. So it is with everyone who is born of the Spirit." Nicodemus said to him, "How can these things be?" Jesus answered him, "Are you a teacher of Israel, and yet you do not understand these things?
"Very truly, I tell you, we speak of what we know and testify to what we have seen; yet you do not receive our testimony. If I have told you about earthly things and you do not believe, how can you believe if I tell you about heavenly things? No one has ascended into heaven except the one who descended from heaven, the Son of Man."
Year B Lent 4 Saturday
Bible verses from The New Revised Standard Version, copyright 1989 by the Division of Christian Education of the National Council of Churches of Christ in the United States of America. Used by permission. All right reserved.

Selections from Revised Common Lectionary Daily Readings, copyright 1995 by the Consultation on Common Texts.

Image Credit: Christ talking with Nicodemus at night by Crijn Hendricksz Volmarijn, via Wikimedia Commons. This is a public domain image.