Revised Common Lectionary Proper 13
Roman Catholic Proper 18
Complementary Hebrew Scripture Lesson from the Torah: Exodus 12:43-13:2
The Lord said to Moses and Aaron: This is the ordinance for the passover: no foreigner shall eat of it, but any slave who has been purchased may eat of it after he has been circumcised; no bound or hired servant may eat of it. It shall be eaten in one house; you shall not take any of the animal outside the house, and you shall not break any of its bones.¹ The whole congregation of Israel shall celebrate it. If an alien who resides with you wants to celebrate the passover to the Lord, all his males shall be circumcised; then he may draw near to celebrate it; he shall be regarded as a native of the land. But no uncircumcised person shall eat of it; there shall be one law for the native and for the alien who resides among you.
All the Israelites did just as the Lord had commanded Moses and Aaron. That very day the Lord brought the Israelites out of the land of Egypt, company by company.
The Lord said to Moses: Consecrate to me all the firstborn; whatever is the first to open the womb among the Israelites, of human beings and animals, is mine.
¹This sentence is quoted in John 19:36 about Jesus' crucifixion.
Semi-continuous Hebrew Scripture from the Former Prophets: Joshua 23
A long time afterward, when the Lord had given rest to Israel from all their enemies all around, and Joshua was old and well advanced in years, Joshua summoned all Israel, their elders and heads, their judges and officers, and said to them, "I am now old and well advanced in years; and you have seen all that the Lord your God has done to all these nations for your sake, for it is the Lord your God who has fought for you. I have allotted to you as an inheritance for your tribes those nations that remain, along with all the nations that I have already cut off, from the Jordan to the Great Sea in the west. The Lord your God will push them back before you, and drive them out of your sight; and you shall possess their land, as the Lord your God promised you. Therefore be very steadfast to observe and do all that is written in the book of the law of Moses, turning aside from it neither to the right nor to the left, so that you may not be mixed with these nations left here among you, or make mention of the names of their gods, or swear by them, or serve them, or bow yourselves down to them, but hold fast to the Lord your God, as you have done to this day. For the Lord has driven out before you great and strong nations; and as for you, no one has been able to withstand you to this day. One of you puts to flight a thousand, since it is the Lord your God who fights for you, as he promised you. Be very careful, therefore, to love the Lord your God. For if you turn back, and join the survivors of these nations left here among you, and intermarry with them, so that you marry their women and they yours, know assuredly that the Lord your God will not continue to drive out these nations before you; but they shall be a snare and a trap for you, a scourge on your sides, and thorns in your eyes, until you perish from this good land that the Lord your God has given you.
"And now I am about to go the way of all the earth, and you know in your hearts and souls, all of you, that not one thing has failed of all the good things that the Lord your God promised concerning you; all have come to pass for you, not one of them has failed. But just as all the good things that the Lord your God promised concerning you have been fulfilled for you, so the Lord will bring upon you all the bad things, until he has destroyed you from this good land that the Lord your God has given you. If you transgress the covenant of the Lord your God, which he enjoined on you, and go and serve other gods and bow down to them, then the anger of the Lord will be kindled against you, and you shall perish quickly from the good land that he has given to you."
Complementary Psalm 78:23-29
Yet he commanded the skies above,
 and opened the doors of heaven;
he rained down on them manna to eat,
 and gave them the grain of heaven.
Mortals ate of the bread of angels;
 he sent them food in abundance.
He caused the east wind to blow in the heavens,
 and by his power he led out the south wind;
he rained flesh upon them like dust,
 winged birds like the sand of the seas;
he let them fall within their camp,
 all around their dwellings.
And they ate and were well filled,
 for he gave them what they craved.
Semi-continuous Psalm 51:1-12
<To the leader. A Psalm of David, when the prophet Nathan came to him, after he had gone in to Bathsheba.>
Have mercy on me, O God,
 according to your steadfast love;
according to your abundant mercy blot out my transgressions.
Wash me thoroughly from my iniquity,
 and cleanse me from my sin.
For I know my transgressions,
 and my sin is ever before me.
Against you, you alone, have I sinned,
 and done what is evil in your sight,
so that you are justified in your sentence
 and blameless when you pass judgment.
Indeed, I was born guilty,
 a sinner when my mother conceived me.
You desire truth in the inward being;
 therefore teach me wisdom in my secret heart.
Purge me with hyssop, and I shall be clean;
 wash me, and I shall be whiter than snow.
Let me hear joy and gladness;
 let the bones that you have crushed rejoice.
Hide your face from my sins,
 and blot out all my iniquities.
Create in me a clean heart, O God,
 and put a new and right spirit within me.
Do not cast me away from your presence,
 and do not take your holy spirit from me.
Restore to me the joy of your salvation,
 and sustain in me a willing spirit.
New Testament Epistle Lesson: 1 Corinthians 11:27-34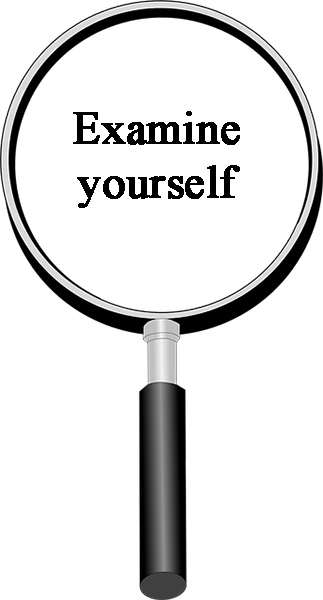 Whoever, therefore, eats the bread or drinks the cup of the Lord in an unworthy manner will be answerable for the body and blood of the Lord. Examine yourselves, and only then eat of the bread and drink of the cup. For all who eat and drink without discerning the body, eat and drink judgment against themselves. For this reason many of you are weak and ill, and some have died. But if we judged ourselves, we would not be judged. But when we are judged by the Lord, we are disciplined so that we may not be condemned along with the world.
So then, my brothers and sisters, when you come together to eat, wait for one another. If you are hungry, eat at home, so that when you come together, it will not be for your condemnation. About the other things I will give instructions when I come.
Year B Ordinary 18, RCL Proper 13, Catholic Proper 18 Friday
Selections from Revised Common Lectionary Daily Readings, copyright © 1995 by the Consultation on Common Texts.

Unless otherwise indicated, Bible text is from The New Revised Standard Version, (NRSV) copyright © 1989 by the Division of Christian Education of the National Council of Churches of Christ in the United States of America. Used by permission. All right reserved.

Footnotes in the Hebrew Scriptures (Old Testament) that show where the passage is used in the Christian Scriptures (New Testament) from Complete Jewish Bible (CJB) by David H. Stern, Copyright © 1998 and 2006 by David H. Stern, used by permission of Messianic Jewish Publishers, www.messianicjewish.net. All rights reserved worldwide. When text is taken from the CJB, the passage ends with (CJB) and the foregoing copyright notice applies.

Image credit: Examine Yourself created by Michael Gilbertson using a public domain magnifying glass image from Pixabay. This image may be freely used. Please credit The Lectionary Company.