This week's blog post is here. It has a review of Modern English Version, asks the question who should we love as our neighbor, and has more on the theme of love.

More information about the two complementary and semi-continuous series is here: Which Series?
Complementary Hebrew Scripture from the Torah: Numbers 9:9-14
The Lord spoke to Moses, saying: Speak to the Israelites, saying: Anyone of you or your descendants who is unclean through touching a corpse, or is away on a journey, shall still keep the passover to the Lord. In the second month on the fourteenth day, at twilight, they shall keep it; they shall eat it with unleavened bread and bitter herbs. They shall leave none of it until morning, nor break a bone of it; according to all the statute for the passover they shall keep it. But anyone who is clean and is not on a journey, and yet refrains from keeping the passover, shall be cut off from the people for not presenting the Lord's offering at its appointed time; such a one shall bear the consequences for the sin. Any alien residing among you who wishes to keep the passover to the Lord shall do so according to the statute of the passover and according to its regulation; you shall have one statute for both the resident alien and the native.
This phrase is fulfilled in John's description of Jesus' death (John 19:28-37
Semi-continuous Hebrew Scripture from the Writings: Ruth 2:10-14
Then she fell prostrate, with her face to the ground, and said to him, "Why have I found favor in your sight, that you should take notice of me, when I am a foreigner?" But Boaz answered her, "All that you have done for your mother-in-law since the death of your husband has been fully told me, and how you left your father and mother and your native land and came to a people that you did not know before. May the Lord reward you for your deeds, and may you have a full reward from the Lord, the God of Israel, under whose wings you have come for refuge!" Then she said, "May I continue to find favor in your sight, my lord, for you have comforted me and spoken kindly to your servant, even though I am not one of your servants."
At mealtime Boaz said to her, "Come here, and eat some of this bread, and dip your morsel in the sour wine." So she sat beside the reapers, and he heaped up for her some parched grain. She ate until she was satisfied, and she had some left over.
Complementary Psalm 119:1-8
Happy are those whose way is blameless,
 who walk in the law of the Lord.
Happy are those who keep his decrees,
 who seek him with their whole heart,
who also do no wrong,
 but walk in his ways.
You have commanded your precepts
 to be kept diligently.
O that my ways may be steadfast
 in keeping your statutes!
Then I shall not be put to shame,
 having my eyes fixed on all your commandments.
I will praise you with an upright heart,
 when I learn your righteous ordinances.
I will observe your statutes;
 do not utterly forsake me.
Semi-continuous Psalm 146
Praise the Lord!
Praise the Lord, O my soul!
I will praise the Lord as long as I live;
 I will sing praises to my God all my life long.
Do not put your trust in princes,
 in mortals, in whom there is no help.
When their breath departs, they return to the earth;
 on that very day their plans perish.
Happy are those whose help is the God of Jacob,
 whose hope is in the Lord their God,
who made heaven and earth,
 the sea, and all that is in them;¹
who keeps faith forever;
 who executes justice for the oppressed;
who gives food to the hungry.
The Lord sets the prisoners free;
 the Lord opens the eyes of the blind.
The Lord lifts up those who are bowed down;
 the Lord loves the righteous.
The Lord watches over the strangers;
 he upholds the orphan and the widow,
but the way of the wicked he brings to ruin.
The Lord will reign forever,
 your God, O Zion, for all generations.
Praise the Lord!
¹This passage is used in Acts, when the believers pray for boldness (Acts 4:23-31), and when Paul and Barnabas prevent the people of Lystra from offering them sacrifices (Acts 14:8-20) as well as in Revelation, when a voice speaking to John instructs him to prophesy in many nations (Revelation 10:1-11).
New Testament Gospel Lesson: Luke 10:25-37
Just then a lawyer stood up to test Jesus. "Teacher," he said, "what must I do to inherit eternal life?" He said to him, "What is written in the law? What do you read there?" He answered, "You shall love the Lord your God with all your heart, and with all your soul, and with all your strength, and with all your mind;¹ and your neighbor as yourself."² And he said to him, "You have given the right answer; do this, and you will live."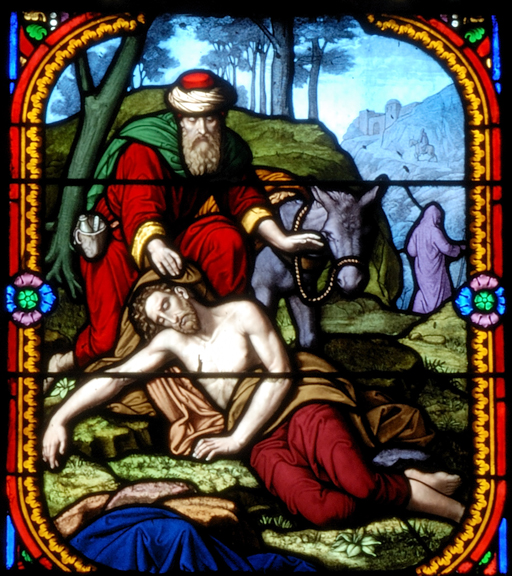 But wanting to justify himself, he asked Jesus, "And who is my neighbor?" Jesus replied, "A man was going down from Jerusalem to Jericho, and fell into the hands of robbers, who stripped him, beat him, and went away, leaving him half dead. Now by chance a priest was going down that road; and when he saw him, he passed by on the other side. So likewise a Levite, when he came to the place and saw him, passed by on the other side. But a Samaritan while traveling came near him; and when he saw him, he was moved with pity. He went to him and bandaged his wounds, having poured oil and wine on them. Then he put him on his own animal, brought him to an inn, and took care of him. The next day he took out two denarii, gave them to the innkeeper, and said, 'Take care of him; and when I come back, I will repay you whatever more you spend.' Which of these three, do you think, was a neighbor to the man who fell into the hands of the robbers?" He said, "The one who showed him mercy." Jesus said to him, "Go and do likewise."
¹Deuteronomy 6:5   ²Leviticus 19:18
Year B Ordinary 31 Saturday
Selections from Revised Common Lectionary Daily Readings copyright © 1995 by the Consultation on Common Texts.

Unless otherwise indicated, Bible text is from Holy Bible New Revised Standard Version with the Apocryphal / Deuterocanonical Books (NRSV) copyright © 1989 by the Division of Christian Education of the National Council of Churches of Christ in the United States of America. Used by permission. All right reserved.

Footnotes in the Hebrew Scriptures that show where the passage is used in the Christian Scriptures are based on information from the Complete Jewish Bible (Updated) (CJB) by David H. Stern, Copyright © 1998 and 2006 by David H. Stern, used by permission of Messianic Jewish Publishers, www.messianicjewish.net. All rights reserved worldwide. When text is taken from the CJB, the passage ends with (CJB) and the foregoing copyright notice applies.

Footnotes in the Christian Scriptures that show where a passage from the Hebrew Scripture is used are from The The Holy Bible: New International Version ® (NIV®), copyright © 1973, 1978, 1984, 2011 by Biblica, Inc.® Used by permission. All rights reserved worldwide. When text is taken from the NIV, the passage ends with (NIV) and the foregoing copyright notice applies.

Note: The links in the titles above take you to Amazon, where you can purchase them and benefit The Lectionary Company.

Image credit: Parable of the Good Samaritan, stained glass window by L. Chatain in the Church of Saint-Eutrope in Clermont-Ferrand, France, via Wikipedia. This image is licensed under the Creative Commons 3.0 Attribution Share Alike license.