This week's blog post is here. It has a review of The Complete Jewish Bible (which has both testaments), and some perspective on what often seems like John the Evangelist's anti-Semitism.
More information about the complementary and semi-continuous series is here: Which Series?
Complementary Hebrew Scripture from The Latter Prophets: Ezekiel 29:1-12
In the tenth year, in the tenth month, on the twelfth day of the month, the word of the Lord came to me: Mortal, set your face against Pharaoh king of Egypt, and prophesy against him and against all Egypt; speak, and say, Thus says the Lord God:
I am against you,
 Pharaoh king of Egypt,
the great dragon sprawling
 in the midst of its channels,
saying, "My Nile is my own;
 I made it for myself."
I will put hooks in your jaws,
 and make the fish of your channels stick to your scales.
I will draw you up from your channels,
 with all the fish of your channels
 sticking to your scales.
I will fling you into the wilderness,
 you and all the fish of your channels;
you shall fall in the open field,
 and not be gathered and buried.
To the animals of the earth and to the birds of the air
 I have given you as food.
Then all the inhabitants of Egypt shall know
 that I am the Lord
because you were a staff of reed
 to the house of Israel;
when they grasped you with the hand, you broke,
 and tore all their shoulders;
and when they leaned on you, you broke,
 and made all their legs unsteady.
Therefore, thus says the Lord God: I will bring a sword upon you, and will cut off from you human being and animal; and the land of Egypt shall be a desolation and a waste. Then they shall know that I am the Lord.
Because you said, "The Nile is mine, and I made it," therefore, I am against you, and against your channels, and I will make the land of Egypt an utter waste and desolation, from Migdol to Syene, as far as the border of Ethiopia. No human foot shall pass through it, and no animal foot shall pass through it; it shall be uninhabited forty years. I will make the land of Egypt a desolation among desolated countries; and her cities shall be a desolation forty years among cities that are laid waste. I will scatter the Egyptians among the nations, and disperse them among the countries.
Semi-continuous Hebrew Scripture: 1 Samuel 17:55—18:5
When Saul saw David go out against the Philistine, he said to Abner, the commander of the army, "Abner, whose son is this young man?" Abner said, "As your soul lives, O king, I do not know. The king said, "Inquire whose son the stripling is." On David's return from killing the Philistine, Abner took him and brought him before Saul, with the head of the Philistine in his hand. Saul said to him, "Whose son are you, young man?" And David answered, "I am the son of your servant Jesse the Bethlehemite."
When David had finished speaking to Saul, the soul of Jonathan was bound to the soul of David, and Jonathan loved him as his own soul. Saul took him that day and would not let him return to his father's house. Then Jonathan made a covenant with David, because he loved him as his own soul. Jonathan stripped himself of the robe that he was wearing, and gave it to David, and his armor, and even his sword and his bow and his belt. David went out and was successful wherever Saul sent him; as a result, Saul set him over the army. And all the people, even the servants of Saul, approved.
Complementary Psalm 76
In Judah God is known,
 his name is great in Israel.
His abode has been established in Salem,
 his dwelling place in Zion.
There he broke the flashing arrows,
 the shield, the sword, and the weapons of war.
Glorious are you, more majestic
 than the everlasting mountains.
The stouthearted were stripped of their spoil;
 they sank into sleep;
none of the troops
 was able to lift a hand.
At your rebuke, O God of Jacob,
 both rider and horse lay stunned.
But you indeed are awesome!
Who can stand before you
 when once your anger is roused?
From the heavens you uttered judgment;
 the earth feared and was still
when God rose up to establish judgment,
 to save all the oppressed of the earth.
Human wrath serves only to praise you,
 when you bind the last bit of your wrath around you.
Make vows to the Lord your God, and perform them;
 let all who are around him bring gifts
 to the one who is awesome,
who cuts off the spirit of princes,
 who inspires fear in the kings of the earth.
Semi-continuous Psalm 63
O God, you are my God, I seek you,
 my soul thirsts for you;
my flesh faints for you,
 as in a dry and weary land where there is no water.
So I have looked upon you in the sanctuary,
 beholding your power and glory.
Because your steadfast love is better than life,
 my lips will praise you.
So I will bless you as long as I live;
 I will lift up my hands and call on your name.
My soul is satisfied as with a rich feast,
 and my mouth praises you with joyful lips
when I think of you on my bed,
 and meditate on you in the watches of the night;
for you have been my help,
 and in the shadow of your wings I sing for joy.
My soul clings to you;
 your right hand upholds me.
But those who seek to destroy my life
 shall go down into the depths of the earth;
they shall be given over to the power of the sword,
 they shall be prey for jackals.
But the king shall rejoice in God;
 all who swear by him shall exult,
 for the mouths of liars will be stopped.
New Testament Lesson: Revelation 11:15-19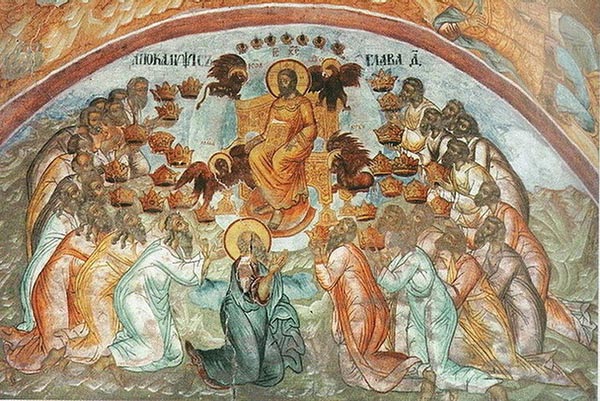 Then the seventh angel blew his trumpet, and there were loud voices in heaven, saying,
"The kingdom of the world has become the kingdom of our Lord
 and of his Messiah,
and he will reign forever and ever."
Then the twenty-four elders who sit on their thrones before God fell on their faces and worshiped God, singing,
"We give you thanks, Lord God Almighty,
 who are and who were,
for you have taken your great power
 and begun to reign.
The nations raged,
 but your wrath has come,
 and the time for judging the dead,
for rewarding your servants, the prophets
 and saints and all who fear your name,
 both small and great,
and for destroying those who destroy the earth."
Then God's temple in heaven was opened, and the ark of his covenant was seen within his temple; and there were flashes of lightning, rumblings, peals of thunder, an earthquake, and heavy hail.
Year B Ordinary 34 Tuesday
Selections from Revised Common Lectionary Daily Readings copyright © 1995 by the Consultation on Common Texts.

Unless otherwise indicated, Bible text is from Holy Bible New Revised Standard Version (NRSV) copyright © 1989 by the Division of Christian Education of the National Council of Churches of Christ in the United States of America. Used by permission. All right reserved.

Image Credit: Adoration to the Throne from Trinity Cathedral, Troitse-Danilov Monastery, via Wikimedia Commons. This is a public domain image.