Revised Common Lectionary Proper 4
Roman Catholic Proper 9
Complementary Hebrew Scripture Lesson from the Torah: Leviticus 23:1-8
The Lord spoke to Moses, saying: Speak to the people of Israel and say to them: These are the appointed festivals of the Lord that you shall proclaim as holy convocations, my appointed festivals.
Six days shall work be done; but the seventh day is a sabbath of complete rest, a holy convocation; you shall do no work: it is a sabbath to the Lord throughout your settlements.
These are the appointed festivals of the Lord, the holy convocations, which you shall celebrate at the time appointed for them. In the first month, on the fourteenth day of the month, at twilight, there shall be a passover offering to the Lord, and on the fifteenth day of the same month is the festival of unleavened bread to the Lord; seven days you shall eat unleavened bread. On the first day you shall have a holy convocation; you shall not work at your occupations. For seven days you shall present the Lord's offerings by fire; on the seventh day there shall be a holy convocation: you shall not work at your occupations.
There are parallel passages at Exodus 12:14-20, Numbers 28:16-25 and Deuteronomy 16:1-8.
Semi-continuous Hebrew Scripture Lesson from the Former Prophets: 1 Samuel 1:19-27
They rose early in the morning and worshiped before the Lord; then they went back to their house at Ramah. Elkanah knew his wife Hannah, and the Lord remembered her. In due time Hannah conceived and bore a son. She named him Samuel, for she said, "I have asked him of the Lord."
The man Elkanah and all his household went up to offer to the Lord the yearly sacrifice, and to pay his vow. But Hannah did not go up, for she said to her husband, "As soon as the child is weaned, I will bring him, that he may appear in the presence of the Lord, and remain there forever; I will offer him as a nazirite for all time." Her husband Elkanah said to her, "Do what seems best to you, wait until you have weaned him; only—may the Lord establish his word." So the woman remained and nursed her son, until she weaned him. When she had weaned him, she took him up with her, along with a three-year-old bull, an ephah of flour, and a skin of wine. She brought him to the house of the Lord at Shiloh; and the child was young. Then they slaughtered the bull, and they brought the child to Eli. And she said, "Oh, my lord! As you live, my lord, I am the woman who was standing here in your presence, praying to the Lord. For this child I prayed; and the Lord has granted me the petition that I made to him."
Complementary Psalm 81:1-10
Sing aloud to God our strength;
 shout for joy to the God of Jacob.
Raise a song, sound the tambourine,
 the sweet lyre with the harp.
Blow the trumpet at the new moon,
 at the full moon, on our festal day.
For it is a statute for Israel,
 an ordinance of the God of Jacob.
He made it a decree in Joseph,
 when he went out over the land of Egypt.
I hear a voice I had not known:
"I relieved your shoulder of the burden;
 your hands were freed from the basket.
In distress you called, and I rescued you;
 I answered you in the secret place of thunder;
 I tested you at the waters of Meribah. Selah
Hear, O my people, while I admonish you;
 O Israel, if you would but listen to me!
There shall be no strange god among you;
 you shall not bow down to a foreign god.
I am the Lord your God,
 who brought you up out of the land of Egypt.
 Open your mouth wide and I will fill it."
Semi-continuous Psalm 139:1-6, 13-18
O Lord, you have searched me and known me.
You know when I sit down and when I rise up;
 you discern my thoughts from far away.
You search out my path and my lying down,
 and are acquainted with all my ways.
Even before a word is on my tongue,
 O Lord, you know it completely.
You hem me in, behind and before,
 and lay your hand upon me.
Such knowledge is too wonderful for me;
 it is so high that I cannot attain it.
For it was you who formed my inward parts;
 you knit me together in my mother's womb.
I praise you, for I am fearfully and wonderfully made.
Wonderful are your works;
 that I know very well.
My frame was not hidden from you,
 when I was being made in secret,
 intricately woven in the depths of the earth.
Your eyes beheld my unformed substance.
In your book were written
 all the days that were formed for me,
 when none of them as yet existed.
How weighty to me are your thoughts, O God!
 How vast is the sum of them!
I try to count them—they are more than the sand;
 I come to the end—I am still with you.
New Testament Epistle Lesson: Romans 8:31-39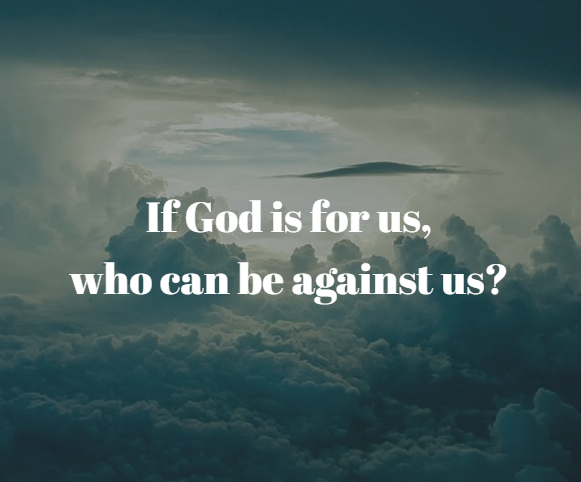 What then are we to say about these things? If God is for us, who is against us? He who did not withhold his own Son, but gave him up for all of us, will he not with him also give us everything else? Who will bring any charge against God's elect? It is God who justifies. Who is to condemn? It is Christ Jesus, who died, yes, who was raised, who is at the right hand of God, who indeed intercedes for us. Who will separate us from the love of Christ? Will hardship, or distress, or persecution, or famine, or nakedness, or peril, or sword? As it is written,
"For your sake we are being killed all day long;
 we are accounted as sheep to be slaughtered."¹
No, in all these things we are more than conquerors through him who loved us. For I am convinced that neither death, nor life, nor angels, nor rulers, nor things present, nor things to come, nor powers, nor height, nor depth, nor anything else in all creation, will be able to separate us from the love of God in Christ Jesus our Lord.
¹Psalm 44:22
Year B Ordinary 9, RCL Proper 4, Catholic Proper 9 Friday
Selections from Revised Common Lectionary Daily Readings, copyright © 1995 by the Consultation on Common Texts.

Unless otherwise indicated, Bible text is from The New Revised Standard Version, (NRSV) copyright © 1989 by the Division of Christian Education of the National Council of Churches of Christ in the United States of America. Used by permission. All right reserved.

Footnotes in the Christian Scriptures (New Testament) that show where a passage from the Hebrew Scripture (Old Testament) is used are from The Holy Bible, New International Version® (NIV®), copyright © 1973, 1978, 1984, 2011 by Biblica, Inc.® Used by permission. All rights reserved worldwide. When text is taken from the NIV, the passage ends with (NIV) and the foregoing copyright notice applies.

Parallel passages are as indicated in The Holy Bible Modern English Version (MEV), copyright © 2014 by Military Bible Association. Used by permission. All rights reserved. When text is taken from the MEV, the passage ends with (MEV) and the foregoing copyright notice applies.

Image credit: If God is for us, who is against us? created by Michael Gilbertson on Pablo. This image may be used under the Creative Commons Attribution Share Alike 4.0 license.