Revised Common Lectionary Proper 4
Roman Catholic Proper 9
Complementary Hebrew Scripture Lesson from the Torah: Leviticus 24:5-9
You shall take choice flour, and bake twelve loaves of it; two-tenths of an ephah shall be in each loaf. You shall place them in two rows, six in a row, on the table of pure gold. You shall put pure frankincense with each row, to be a token offering for the bread, as an offering by fire to the Lord. Every sabbath day Aaron shall set them in order before the Lord regularly as a commitment of the people of Israel, as a covenant forever. They shall be for Aaron and his descendants, who shall eat them in a holy place, for they are most holy portions for him from the offerings by fire to the Lord, a perpetual due.
Semi-continuous Hebrew Scripture Lesson from the Former Prophets: 1 Samuel 2:1-10
Hannah prayed and said,
"My heart exults in the Lord;
 my strength is exalted in my God.
My mouth derides my enemies,
 because I rejoice in my victory.¹
"There is no Holy One like the Lord,
 no one besides you;
 there is no Rock like our God.
Talk no more so very proudly,
 let not arrogance come from your mouth;
for the Lord is a God of knowledge,
 and by him actions are weighed.
The bows of the mighty are broken,
 but the feeble gird on strength.
Those who were full have hired themselves out for bread,
 but those who were hungry are fat with spoil.
The barren has borne seven,
 but she who has many children is forlorn.
The Lord kills and brings to life;
 he brings down to Sheol and raises up.
The Lord makes poor and makes rich;
 he brings low, he also exalts.
He raises up the poor from the dust;
 he lifts the needy from the ash heap,
to make them sit with princes
 and inherit a seat of honor.
For the pillars of the earth are the Lord's,
 and on them he has set the world.
"He will guard the feet of his faithful ones,
 but the wicked shall be cut off in darkness;
 for not by might does one prevail.
The Lord! His adversaries shall be shattered;
 the Most High will thunder in heaven.
The Lord will judge the ends of the earth;
 he will give strength to his king,
 and exalt the power of his anointed."
¹Mary exults in the Lord in the Magnificat, in Luke 1:46-48.
Complementary Psalm 81:1-10
Sing aloud to God our strength;
 shout for joy to the God of Jacob.
Raise a song, sound the tambourine,
 the sweet lyre with the harp.
Blow the trumpet at the new moon,
 at the full moon, on our festal day.
For it is a statute for Israel,
 an ordinance of the God of Jacob.
He made it a decree in Joseph,
 when he went out over the land of Egypt.
I hear a voice I had not known:
"I relieved your shoulder of the burden;
 your hands were freed from the basket.
In distress you called, and I rescued you;
 I answered you in the secret place of thunder;
 I tested you at the waters of Meribah. Selah
Hear, O my people, while I admonish you;
 O Israel, if you would but listen to me!
There shall be no strange god among you;
 you shall not bow down to a foreign god.
I am the Lord your God,
 who brought you up out of the land of Egypt.
 Open your mouth wide and I will fill it."
Semi-continuous Psalm 139:1-6, 13-18
O Lord, you have searched me and known me.
You know when I sit down and when I rise up;
 you discern my thoughts from far away.
You search out my path and my lying down,
 and are acquainted with all my ways.
Even before a word is on my tongue,
 O Lord, you know it completely.
You hem me in, behind and before,
 and lay your hand upon me.
Such knowledge is too wonderful for me;
 it is so high that I cannot attain it.
For it was you who formed my inward parts;
 you knit me together in my mother's womb.
I praise you, for I am fearfully and wonderfully made.
Wonderful are your works;
 that I know very well.
My frame was not hidden from you,
 when I was being made in secret,
 intricately woven in the depths of the earth.
Your eyes beheld my unformed substance.
In your book were written
 all the days that were formed for me,
 when none of them as yet existed.
How weighty to me are your thoughts, O God!
 How vast is the sum of them!
I try to count them—they are more than the sand;
 I come to the end—I am still with you.
New Testament Gospel Lesson: John 7:19-24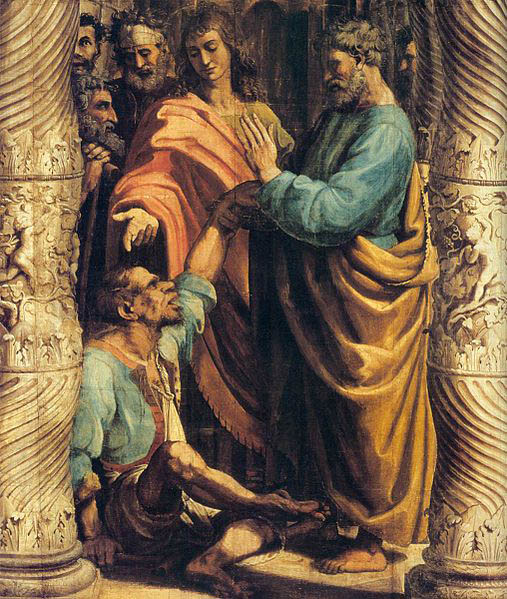 [Jesus is teaching at the temple during the Festival of Booths.]
"Did not Moses give you the law? Yet none of you keeps the law. Why are you looking for an opportunity to kill me?" The crowd answered, "You have a demon! Who is trying to kill you?" Jesus answered them, "I performed one work, and all of you are astonished. Moses gave you circumcision (it is, of course, not from Moses, but from the patriarchs), and you circumcise a man on the sabbath. If a man receives circumcision on the sabbath in order that the law of Moses may not be broken, are you angry with me because I healed a man's whole body on the sabbath? Do not judge by appearances, but judge with right judgment."
Year B Ordinary 9, RCL Proper 4, Catholic Proper 9 Saturday
Selections from Revised Common Lectionary Daily Readings, copyright © 1995 by the Consultation on Common Texts.

Unless otherwise indicated, Bible text is from The New Revised Standard Version, (NRSV) copyright © 1989 by the Division of Christian Education of the National Council of Churches of Christ in the United States of America. Used by permission. All right reserved.

Footnotes in the Hebrew Scriptures (Old Testament) that show where the passage is used in the Christian Scriptures (New Testament) from Complete Jewish Bible (CJB) by David H. Stern, Copyright © 1998 and 2006 by David H. Stern, used by permission of Messianic Jewish Publishers, www.messianicjewish.net. All rights reserved worldwide. When text is taken from the CJB, the passage ends with (CJB) and the foregoing copyright notice applies.

Image credit: Healing of the Lame Man (detail) by Raphael, via Wikimedia Commons. This is a public domain image.