Revised Common Lectionary Proper 10
Roman Catholic Proper 15
Complementary Hebrew Scripture from The Writings: Job 24:1-8
[Job is answering Eliphaz.]
"Why are times not kept by the Almighty,
 and why do those who know him never see his days?
The wicked remove landmarks;
 they seize flocks and pasture them.
They drive away the donkey of the orphan;
 they take the widow's ox for a pledge.
They thrust the needy off the road;
 the poor of the earth all hide themselves.
Like wild asses in the desert
 they go out to their toil,
scavenging in the wasteland
 food for their young.
They reap in a field not their own
 and they glean in the vineyard of the wicked.
They lie all night naked, without clothing,
 and have no covering in the cold.
They are wet with the rain of the mountains,
 and cling to the rock for want of shelter."
Semi-continuous Hebrew Scripture from The Twelve Prophets: Amos 3:9-4:5
Proclaim to the strongholds in Ashdod,
 and to the strongholds in the land of Egypt,
and say, "Assemble yourselves on Mount Samaria,
 and see what great tumults are within it,
 and what oppressions are in its midst."
They do not know how to do right, says the Lord,
 those who store up violence and
robbery in their strongholds.
Therefore thus says the Lord God:
An adversary shall surround the land,
 and strip you of your defense;
 and your strongholds shall be plundered.
Thus says the Lord: As the shepherd rescues from the mouth of the lion two legs, or a piece of an ear, so shall the people of Israel who live in Samaria be rescued, with the corner of a couch and part of a bed.
Hear, and testify against the house of Jacob,
 says the Lord God, the God of hosts:
On the day I punish Israel for its transgressions,
 I will punish the altars of Bethel,
and the horns of the altar shall be cut off
 and fall to the ground.
I will tear down the winter house as well as the summer house;
 and the houses of ivory shall perish,
and the great houses shall come to an end,
   says the Lord.

Hear this word, you cows of Bashan
 who are on Mount Samaria,
who oppress the poor, who crush the needy,
 who say to their husbands, "Bring something to drink!"
The Lord God has sworn by his holiness:
 The time is surely coming upon you,
when they shall take you away with hooks,
 even the last of you with fishhooks.
Through breaches in the wall you shall leave,
 each one straight ahead;
 and you shall be flung out into Harmon,
   says the Lord.

Come to Bethel—and transgress;
 to Gilgal—and multiply transgression;
bring your sacrifices every morning,
 your tithes every three days;
bring a thank-offering of leavened bread,
 and proclaim freewill offerings, publish them;
for so you love to do, O people of Israel!
   says the Lord God.
Complementary Psalm 25:11-20
For your name's sake, O Lord,
 pardon my guilt, for it is great.
Who are they that fear the Lord?
 He will teach them the way that they should choose.
They will abide in prosperity,
 and their children shall possess the land.
The friendship of the Lord is for those who fear him,
 and he makes his covenant known to them.
My eyes are ever toward the Lord,
 for he will pluck my feet out of the net.
Turn to me and be gracious to me,
 for I am lonely and afflicted.
Relieve the troubles of my heart,
 and bring me out of my distress.
Consider my affliction and my trouble,
 and forgive all my sins.
Consider how many are my foes,
 and with what violent hatred they hate me.
O guard my life, and deliver me;
 do not let me be put to shame, for I take refuge in you.
Semi-continuous Psalm 7
O Lord my God, in you I take refuge;
 save me from all my pursuers, and deliver me,
or like a lion they will tear me apart;
 they will drag me away, with no one to rescue.
O Lord my God, if I have done this,
 if there is wrong in my hands,
if I have repaid my ally with harm
 or plundered my foe without cause,
then let the enemy pursue and overtake me,
 trample my life to the ground,
 and lay my soul in the dust.
Rise up, O Lord, in your anger;
 lift yourself up against the fury of my enemies;
 awake, O my God; you have appointed a judgment.
Let the assembly of the peoples be gathered around you,
 and over it take your seat on high.
The Lord judges the peoples;
 judge me, O Lord, according to my righteousness
 and according to the integrity that is in me.
O let the evil of the wicked come to an end,
 but establish the righteous,
you who test the minds and hearts,
 O righteous God.
God is my shield,
 who saves the upright in heart.
God is a righteous judge,
 and a God who has indignation every day.
If one does not repent, God will whet his sword;
 he has bent and strung his bow;
he has prepared his deadly weapons,
 making his arrows fiery shafts.
See how they conceive evil,
 and are pregnant with mischief,
 and bring forth lies.
They make a pit, digging it out,
 and fall into the hole that they have made.
Their mischief returns upon their own heads,
 and on their own heads their violence descends.
I will give to the Lord the thanks due to his righteousness,
 and sing praise to the name of the Lord, the Most High.
New Testament Epistle Lesson: James 2:1-7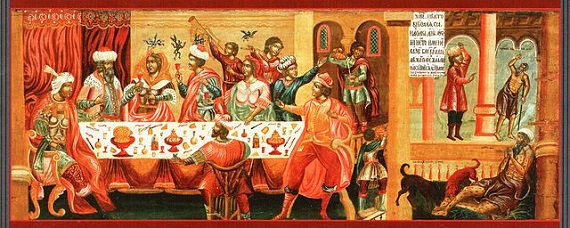 My brothers and sisters, do you with your acts of favoritism really believe in our glorious Lord Jesus Christ? For if a person with gold rings and in fine clothes comes into your assembly, and if a poor person in dirty clothes also comes in, and if you take notice of the one wearing the fine clothes and say, "Have a seat here, please," while to the one who is poor you say, "Stand there," or, "Sit at my feet," have you not made distinctions among yourselves, and become judges with evil thoughts? Listen, my beloved brothers and sisters. Has not God chosen the poor in the world to be rich in faith and to be heirs of the kingdom that he has promised to those who love him? But you have dishonored the poor. Is it not the rich who oppress you? Is it not they who drag you into court? Is it not they who blaspheme the excellent name that was invoked over you?
Year C RCL Proper 10, Catholic Proper 15, Ordinary 15 Monday
Bible verses from The New Revised Standard Version, copyright 1989 by the Division of Christian Education of the National Council of Churches of Christ in the United States of America. Used by permission. All right reserved.

Selections from Revised Common Lectionary Daily Readings, copyright 1985 by Consultation on Common Texts.

Image credit: An anonymous 17th century Russian icon, downloaded form Wikimedia Commons, licensed under Creative Commons 3.0